Madison Food Policy Council Releases New Food Access Improvement Map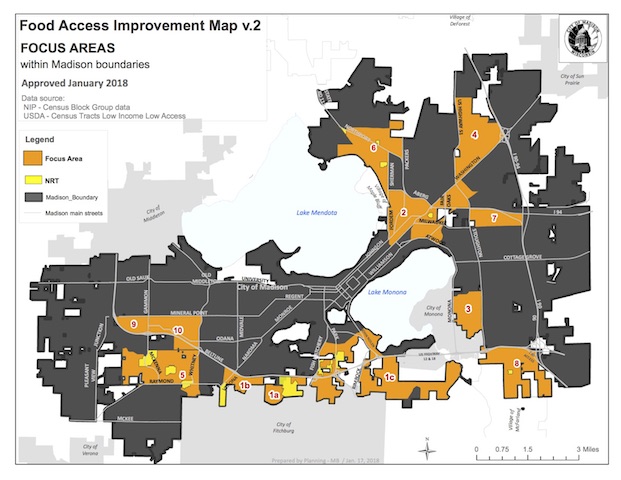 The Madison Food Policy Council approved a new version of the Food Access Improvement Map in January, which shows areas in the City of Madison affected by food insecurity.
The map highlights geographic locations with high average distances, or barriers to food outlets. The data was gathered using qualitative assessment since census tracts do not accurately reflect neighborhood-level variations in Dane County.
Food Policy Council members charted the map in the summer of 2015 to help the Madison Food Policy Council distribute grant funds through the Healthy Retail Access Program.
"Since that time, the map has been updated to its current form and the MFPC is beginning to use it in other grant funding programs, with expansion of use to the City of Madison SEED Grants," Food Policy Coordinator George Reistad said.
Aside from food access, food insecurity requires a comprehensive approach to address overlapping issues of poverty, such as housing, job access, education, transportation.
The City of Madison Neighborhood Resources Teams use the map to help focus its efforts on these overlapping needs of individual neighborhoods. Teams encourage and facilitate communication with the City and stakeholders to improve the quality of life in Madison neighborhoods, which includes solving food insecurity.
Reistad said that moving forward, the Food Access Improvement Map provides City staff with a guide for how to prioritize and distribute resources pertaining to food access and food insecurity within the City of Madison, especially as new programs and initiatives are developed.
The City plans to use the map to help develop strategic plans and set priorities in food access investments.