Willy Street Co-op to Award $25,000 in Community Reinvestment Fund Grants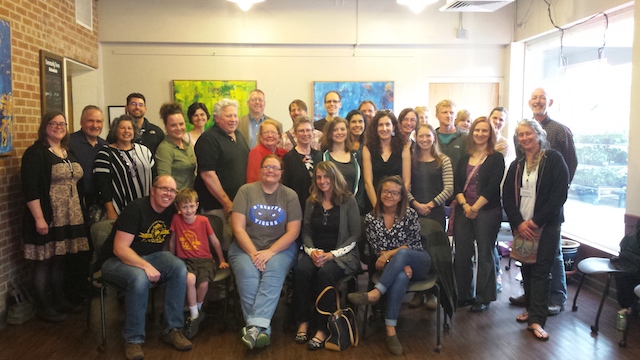 Grantee representatives, Willy Street Co-op Board members, and Co-op staff in the Willy East community room (Photo Courtesy of Willy Street Co-op) .
The Willy Street Co-op is currently accepting applications for grants from their Community Reinvestment Fund until Feb. 28 at 11:59 p.m.
This year, $25,000 in grants will be distributed to a variety of projects focused on improving food access, sustainable agriculture, community well-being, equity and more.
Recipients must be 501(c)3 or cooperative organizations working on projects benefiting Dane County that have not previously been funded by the grant.
According to Brendon Smith, Communications Director for the Willy Street Co-op, the number of grants given, and the amount of each, varies depending on the projects mentioned in the applications. Last year, 14 organizations received a total of $35,000 in funding from the Community Reinvestment Fund.
"In the past three years, grant amounts have ranged from $1,000 for materials to build a school garden to $5,408 to pay for half of a semi-automatic dough divider-rounder for the Just Bakery production kitchen," Smith said. "Grants average out to be about $2,400 per organization."
Since 1992, the fund has distributed $402,000 to local organizations. Owners have invested over $2 million through Community Shares of Wisconsin and the co-op has created several innovative programs including the Community Reinvestment Fund and a retail version of the popular Double Dollars coupons to provide additional fresh produce for customers using QUEST cards.
The Willy Street Co-op now has nearly 35,000 owners and three locations in Madison and Middleton, increasing the total amount awarded in grants.
"In our state, when co-op owners leave their co-ops, they have the option to either withdraw the money associated with their ownership or donate that money to the co-op to use for charitable purposes," Smith said. "Our co-op developed the Community Reinvestment Fund as one of the ways we can use this money, and it was a natural development of our commitment to giving back."
Organizations can find the grant guidelines and application here.