Madison Community Foundation Pledges $75,000 to Reclaim Trees Killed by Emerald Ash Borer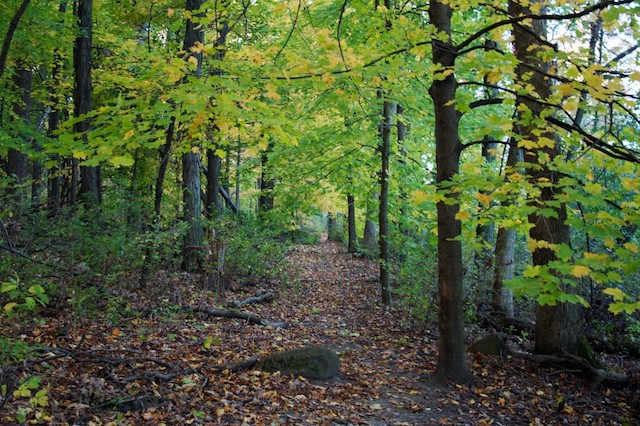 On a trail in the UW-Madison Arboretum
The Madison Community Foundation announced this month a $75,000 grant intended to help local community organizations utilize wood from ash trees felled by the invasive emerald ash borer insect for educational and artistic projects.
This grant represents the tenth in a series of twelve major community donations made by the Madison Community Foundation, which pledged an approximate $1 million toward various local causes through the twelve gifts. Titled 'Phoenix from the Ashes,' the latest gift aims to help the Madison community find productive benefits from the recent threat of the invasive insect to Madison's ash trees. The project is a partnership between the Madison Parks Department, Madison Arts Commission and Wisconsin Urban Wood, all local groups which intend to use milled lumber from the felled trees toward their own community projects.
"Phoenix from the Ashes is a model of effective collaboration that builds on Madison's legacy as a green city with forward-thinking leadership," said Madison Community Foundation President Bob Sorge. "While the emerald ash borer's impact on our city's tree canopy is devastating, our community now has an uplifting story of the social, economic and ecological benefits of conservation and renewal."
In the past five years, emerald ash borer infestations have been recorded in over 30 cities and towns throughout Dane County. The invasive insect kills ash trees by consuming vital tissue its core. The Wisconsin Department of Natural Resources estimates to account for approximately 20 percent of trees in urban areas. By WiDNR estimates, approximately 50 million ash trees in the Midwest are dead or dying because of the emerald ash borer.
Under the provisions of the grant, milled lumber from the felled trees will go largely toward artistic, educational and construction purposes. Ten local artists will receive individual grants of $1,500 to utilize the wood for sculptures, which will be displayed at the Madison Overture Center Playhouse Gallery. Students at Madison's East and West High schools will also receive milled lumber, to be utilized for carpentry and craftsmanship educational programs.
The Madison Community Foundation intends to coordinate the sourcing and distribution of lumber, which will also be made into furniture for local nonprofits and community organizations.
For Madison Parks Department Superintendent Erik Knepp, the grant represents a positive note to an invasive species battle that has threatened ash trees throughout the United States for over a decade.
"Building off a successful partnership with Wisconsin Urban Wood and The Wood Cycle of Wisconsin, this grant allows our community to upcycle ash trees felled due to EAB in creative ways," said Knepp. "This partnership will have a real impact in our community and is a true win-win-win."