After almost eight years, food bloggers accomplish their alphabetical mission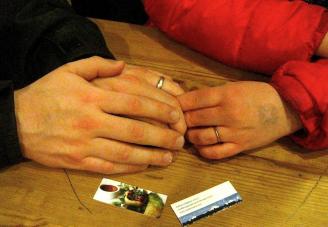 Photo-shy food bloggers, Nichole and JM, visited 779 restaurants over almost 8 yearsFrom A8 China to ZuZu Café, over the last seven years eight months and 25 days, two Madison food bloggers made their way through every single Madison restaurant, alphabetically.
Nichole Fromm is a librarian for Madison's public libraries, and JonMichael "JM" Rasmus is a game developer for Wisconsin Lottery. The married couple wasn't aiming to become famous local food critics, though they've made the Isthmus' favorite bloggers list six years running.
They decided to systematically tour all the local eateries because, in the early years of their marriage, it was clear that eating together was going to cause more pain than pleasure.
"JM was a frozen pizza guy," Nichole said, while she was a stickler for organic foods, and limited her intake of meat for environmental reasons. As she was reading the Isthmus' Eats list to JM in 2004, in the hopes of finding a place for dinner, he gave her one "no" after another.
"When we started this whole thing, JM had the palette of a five-year-old," Nichole said.
"No, I would say I was at an eight-year-old's level," JM countered. "I would choose honey mustard on my chicken fingers sometimes, instead of barbecue sauce."
As she read the list and he kept rejecting restaurant choices, JM realized that this was not going to be a one-time occurrence.
"I was looking for a way out," he said. "Sometimes I say that I knew the more I said yes, the more she would smile and so I said, let's do them all. But this is the realist version: I needed a solution to a problem."
So instead of sifting through an hour of restaurant listings every time they wanted to eat out, Nichole and JM decided that they would eat at every single restaurant on the list. That way, when a choice flopped, it wasn't anyone's fault.
On May 10, 2004, their alphabetical journey began. They generally ate out twice a week, but once, while in the Is, they ate out six nights in a row.
Every time they came to the end of a letter, they reviewed all previous letters on the Isthmus' Eats list and visited any new additions. By the end of their culinary journey, they had visited 779 restaurants,
On February 28, 2012, they posted their final words about systematically exploring Madison's food scene.
"Instead of taking an hour and a half to find a few restaurants we could agree on, we took eight years," JM said. Nichole looked surprised at this, saying she'd never thought about it that way.
On their blog, MadisonAtoZ.com, the couple describe 779 meals and assign two grades, JM's and Nichole's, between A and F to each restaurant. The last restaurant they visited, ZuZu Café, received an A from Nichole and an A- from JM.
That was JM's 300th A or A- and, as the blog states, that means he now has "300 reasons to not eat a Whopper Jr. add cheese."
Both JM and Nichole's food preferences have broadened as they progressed through the alphabet. And in all of their meals they only gave two Fs, both to places that are now closed. One went to an overly-rowdy Grid Iron and the other, to Mad City Crab House, which served chowder that JM described as "plasmoid-like," and parasite-infested salmon.
"If we gave somewhere an F, it meant: this place should not be. It's an abomination," JM said.
On the whole, they were both satisfied with Madison's culinary offerings, giving over 80 percent of establishments an A or B. One thing that struck them about Madison's food scene was the high rate of turnover.
"283 restaurants have opened since we started," JM said. "And close to 200 have closed."
Unfortunately among the closed restaurants were 10 of their very favorites, places that received As from both Nichole and JM. But their honor roll still has over 100 restaurants they both enjoyed.
In the course of their eight year food saga, the couple ate with both the former and current mayors. They ate at Mermaid Café with Dave Cieslewicz in 2008 and at Harmony Bar with Paul Soglin in 2007.
Their blog gets about 1,000 hits per day and accumulated 2.5 million page views over the course of their adventure. Many people visit on Friday and Saturday evenings, looking for a new restaurant to try.
"But the one day in 2011 we had zero hits was Thanksgiving," Nichole said. "I was like, yes! Go home and eat with your families!"
Even after testing every local offering, the couple still doesn't claim food critic status.
"Our blog is like archeology for food," JM explained. "You take a fragment, one meal, and try to surmise what the whole would be."
Even though new restaurants continue popping up on the Isthmus' Eats list, both JM and Nichole consider their goal accomplished. From now on, they will try a restaurant here and there, but the days of dogged list-minding are passed.
They will still post on their blog, but a little less frequently and a little more broadly. Future post may include food events, recipes and other things, not just restaurants.