Allied Drive Learning Center offers after-school help, builds community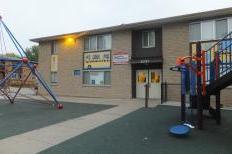 Like other neighborhoods, Madison's Allied Drive appears deserted and silent in the afternoon hours in autumn. But between 3 p.m. and 4 p.m., the street lights up with buses dropping off groups of children. While some are picked up by their guardians who head toward home, many go straight for the doors of Allied Drive's Learning Center.
Nearly 56 percent of Madison's children live in poverty, a number that has increased by almost half since 1997, said Mayor Paul Soglin. Efforts to reverse these numbers in the Allied Drive neighborhood focus on the idea of community cohesion, a practice set into motion 12 years ago through the creation of its Learning Center.
The center, which functions primarily as an after-school childcare program for area students, provides the community with a sense of identity and security, said Laura Harrington, director of the Learning Center.
"No matter where you come from, if you end up with a residency here [on Allied Drive], everybody knows the Learning Center," Harrington said. "If you need something, you are told to come here. We're at the center of the community, and even if we can't help with one problem, we can tell people where to go to get that help."
Madison School and Community Recreation Executive Director Lucy Chaffin described the center as an informational service that can direct citizens where to get help in the areas they need it most.
"[The Learning Center] serves as a hub for information about services available to Allied residents," Chaffin said. "Staff maintain relationships with other service providers, police and social workers working in the Allied community."
The Allied Drive Learning Center was built in June of 2000 in response to a community need for a childcare program in the afterhours of school. In the absence of an area elementary school, children living on Allied Drive and neighboring streets attend four surrounding schools, some of which are over a half hour's bus ride from the neighborhood, said Chaffin.
Principals of several of the schools – including Glenn Stephens, Crestwood and Thoreau – requested that an after-school program be set up in the area.
"The children needed decent daycare, so we thought it would make better sense to try to serve them in our neighborhood because of high bussing costs," Chaffin said.
The Learning Center and its employees keep a close relationship with the area elementary schools that Allied Drive's children attend in an effort to broaden support for students, said Sharon Neylon, outreach manager for Madison School and Community Recreation (MSCR). The center works continuously with elementary school staff members, specifically to ensure students have local help with their homework and other school projects.
"There's a lot of communication between teachers and principals and the center to make sure the process works," Neylon said.
MSCR, a department of Madison Metropolitan School District focusing specifically on community and student outreach, was charged with the construction and ongoing development of the Learning Center.
The district allocated a portion of a Safe Schools grant to the remodeling of an eight-unit apartment on Allied Drive into what is now the Learning Center. Since opening, the center serves as an after-school program dedicated to providing additional learning services to children living in the area.
Harrington noted the center provides a handful of programs that bring otherwise unavailable opportunities to the neighborhood. Madison Public Library offers a "readmobile" service. Students can check out books from a selection the library drives to the center once a month. UW-Madison's nursing department also provides health education ranging from obesity awareness to hygiene practices several times a year.
The center largely helps to bring the Allied Drive community together through its services to children. Beginning in September of every year, Harrington and her staff host "family nights" every other month that aim to bring in parents and students for a shared learning event. This year, the center held a healthy dinner for area families.
Students came in early to prepare the meal, which consisted of a spaghetti dinner, and set the tables.
"It was made with whole wheat noodles, something they'd never tried before," Harrington said. "The students were amazed. They kept saying, 'They're brown!'"
The event drew nearly 25 parents and 86 children, and Harrington described it as a "packed house."
"Within 40 minutes we'd run out of food," she said.
Despite the success of the center's family nights, Harrington noted her attempts at creating adult-focused events have largely failed.
"They just don't come in," Harrington said. "I'll try different parent groups for reading, I tried a knitting type of thing, but parents just don't sign up for those things. They never show. But if it's with their kids, then they will come."
The center is currently staffed with one full-time employee, Harrington, and a handful of part-time staff who each work a total of 18.5 hours a week.
Neylon predicted that the Learning Center's future will likely continue with its current programs aimed at younger children, citing space problems that constrain the center's ability to expand services to the neighborhood. The transience of families living on Allied Drive has also proved to be an obstacle to the center's community outreach attempts.
"It's not uncommon for a lot of places in Madison that serve people that are low-income that they move," Neylon said. "People move where they can find the most affordable housing that's safe, and maybe that's not here. We have about 40 kids a year that come and then go."