Bus system rolls out cuts to campus routes, minor changes to city routes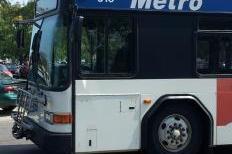 Campus Bus 85 devotees took a final ride Saturday before the buses shut off their 85 lights, and the route became partially absorbed by route 80.
Facing mounting budget problems, UW Transportation combined the routes as part of a total 10 percent cut in service hours to the campus buses.
"Our expenses rise each year and it's difficult to keep pace," said Dar Ward, commuter solutions manager at UW Transportation.
Ward said the new campus routes will provide 3,200 fewer service hours, resulting in a savings of about $176,000 -- each service hour costs about $55.
Riders on the campus buses may find longer waits and bigger crowds, but they will be able to get to all the same places. Route 80 has picked up the entire route 85 with the exception of a loop by Regent Street, which is covered by route 82.
Route 81 will make trips every 30 minutes, rather than every 15 minutes. When Madison Metro Transit officials proposed this cut at a public forum in May, some student representatives said reducing the frequency of the 81 could threaten campus safety, reported The Daily Cardinal .
"It was a long process that we worked through with students and other stakeholders to find a way that affected the least number of riders," Ward said.
Click here for updated schedules of the campus buses. All routes will also be adjusted to accommodate Memorial Union construction.
The cuts could be a harbinger of more budget issues down the road, Ward said, as they provide a temporary solution to a structural problem at UW Transportation.
While Madison Metro gets state funding, UW Transportation – which covers the cost of the free campus buses – must come up with its own funds.
Some funding comes from students' segregated fees, but the majority (more than 75 percent) of UW Transportation's revenue comes from parking permits and fees – a source that Ward said can't keep up with the rising costs of transportation, especially as the University loses parking lots to new developments.
"Parking garages get torn down and our organization has to replace the parking but we don't receive compensation," Ward said. "That gets to be a losing proposition, and that's what we're facing. We can't raise fees every year in order to keep pace with the rising cost."
As they deal with budget cuts in the foreseeable future, Ward said the campus buses will likely remain free. She said the idea of adding a fee for those buses was consistently and vehemently opposed.
Alternatively, UW Transportation has already laid out price hikes for parking permits in campus lots, reported the Badger Herald.
Ward said they've also hired consulting firm NelsonNygaard to study how riders use the campus buses, in an effort to determine the most efficient system.
In addition to changes to the campus buses, some city buses also have different routes, though the changes are more minor and not cost cutting.
"On the UW [routes], the changes will save money, but the other ones were more just housekeeping type of changes meant to keep service on time," Madison Metro Spokesperson Mick Rusch said.
Because the buses had been running behind schedule, Rusch said Metro decided to eliminate some stops on the 11, 25 and 70 routes. Those buses will still hit the same areas, but will stay on streets rather than pulling into parking lots, such as at the Alliant Energy Center, Rusch said.
All route schedules are online here.