Buy me some salads and veggie wraps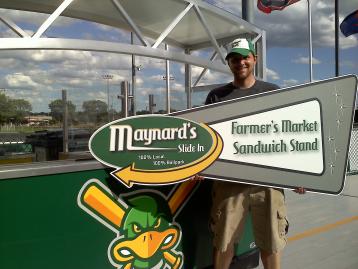 Chef Straub with the sign for the new stand
Warner Park, home of the Madison Mallards, is no stranger to Wisconsin-themed food. On game days, fans can grab everything from cheese curds to hand-scooped ice cream, and wash it all down with an icy local brew.

But the ballpark will soon be including even more locally sourced foods. Wednesday's Opening Day game against the Battle Creek Bombers will introduce The Farmer's Market Sandwich Stand, which boasts the slogan, "100% Local. 100% Ballpark."
"We challenge ourselves each year to bring something new to the park and we felt like one of the things everyone in Madison connects with in the summer is the farmers' markets," said Director of Food and Beverage, Brian Sather.
According to Executive Chef Tristan Straub, the stand will provide savory food with local roots, including a grilled cheese of the day, featuring regional cheeses; grilled veggie wraps that incorporate seasonal produce from area markets and stores; and a B.L.T. put together with bacon from Stoddard's Meat Market, lettuce from the North Side Farmers' Market, and tomatoes from Salzman's.
Straub, who previously worked at L'Etolie and The Brickhouse, is also experimenting with flavors to produce unique salads and soups, such as a pork stew with meat from Stoddard's, that he says will be light for the warm weather.
"I'm pretty excited about it. It's something that's pretty dear to me," he said of the stand.
Although The Farmer's Market Sandwich Stand opens on Wednesday, the menu has not yet been completely finalized.
"The markets aren't alive right now with a lot of the variety we're looking for, so the first couple of games we're going to really struggle to get really local," said Sather.
Still, he and Straub noted that as the baseball and growing seasons continue, and farmers' markets' selections change, so will the menu.
"It's an experiment that we're hoping is really going to work at this point," said Straub.
The Farmer's Market Sandwich Stand will be located in the concourse on the 3B side of the field. Food prices range from $7 to $10.