Chocolate Shoppe Ice Cream celebrates grand reopening this weekend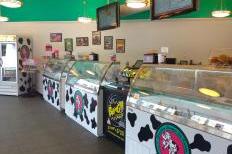 UPDATE: Steve Heaps did not break the Guinness World Record for most ice cream cones scooped in one minute.
On Dec. 3, 2012 Chocolate Shoppe Ice Cream Company closed its State Street location to begin remodeling the 49-year-old shop. After about three months of floor-to-ceiling renovations, the refreshed Chocolate Shoppe opened its doors again on Feb. 22. The official grand reopening is March 9.
The State Street location is the oldest of three company-owned stores in Madison. Chuck Senior and Nancy Deadman opened the State Street shop in 1964, although it was called Chocolate House Candy and Ice Cream at the time.
Steve Heaps, who studied food science at UW-Madison, became co-owner of the State Street location in 1991.
On Sat. March 9, 2013, State Street's Chocolate Shoppe will host a grand reopening event in which Heaps will attempt to break the Guinness World Record for fastest ice cream scooper.
"I have to scoop a scoop of ice cream every three seconds," Heaps said. He planned to practice a lot this week to prepare for the challenge.
Heaps explained that the Chocolate Shoppe remodeled for two reasons, "One, it has been 20 years, and two, I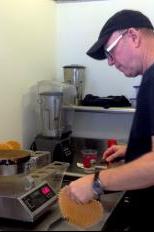 Steve Heaps, co-owner of Chocolate Shoppe Ice Cream on State makes waffle cones. wanted to be more efficient," he said.
While the Chocolate Shoppe is open for business, Heaps said there are minor renovations still in the works, including a new mural. The old State Street shop featured a large wall mural that was removed during the remodeling. The mural was created by a past Chocolate Shoppe employee. Heaps plans to open up the design of the mural to the community with a few restrictions.
"[The mural] has to be ice cream related and child friendly," he said.
According to Chocolate Shoppe employees, the Shoppe has more to offer than just ice cream.
"I've always found this to be a really creative atmosphere, particularly because I've always thought that most of the people that work here are really creative," said Shawn Kuhn, Chocolate Shoppe employee of two and a half years.
Heaps agreed with Kuhn.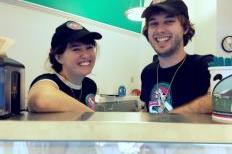 Chocolate Shoppe employees Marisa Halperin and Shawn Kuhn"They help come up with ice cream flavors ... they help with the look of the store," Heaps said.
Chocolate Shoppe employee Marisa Halperin created a flavor of her own with mint, Oreo, and coconut.
Ice cream lovers can find independently owned Chocolate Shoppes in 12 states. Sons Chuck Junior and Dave Deadman decided to continue their parents' legacy. The Deadman brothers now own and operate the three Madison locations.
The Deadmans expanded their ice cream from 19 super-premium flavors when the company was established in 1962 to over 100 flavors today. Halperin favors the Chocolate Raspberry Truffle.
Chocolate Shoppe also serves a variety of italian ices, non-fat yogurts, and soy options.
The Chocolate Shoppe Ice Cream Company participates in a variety of ice cream shows each year so restaurants and distributors can sample their product. On Feb. 17 and Feb. 18 of this year, Chocolate Shoppe Ice Cream shared 16 flavors, as well as new Bang!! Caffeinated Ice Cream, with attendees at the North American Pizza and Ice Cream Show in Columbus, Ohio.