Creating community through public art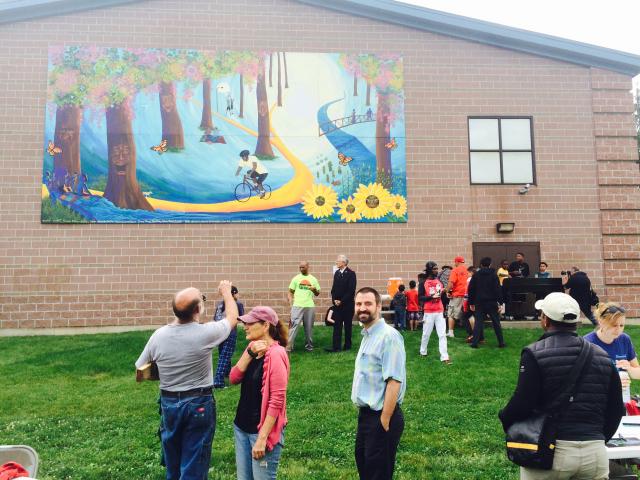 A new mural debuted at the Salvation Army in Darbo-Worthington. A collaboration between Sustain Dane and Sharon Kilfoy of the Williamson Street Arts Center, the project sought to build connections between neighbors (Franco Latona/Madison Commons).
Community members in the Darbo-Worthington Neighborhood celebrated the completion of a public mural Friday evening at the Salvation Army where the painting now hangs on the east wall.
Sustain Dane coordinated the project in partnership with Sharon Kilfoy, director of the Williamson Street Arts Center. It began in March of 2014 with community input sessions where local residents described their visions for a healthy, vibrant neighborhood.
Some of the topics mentioned were "...safe and clean streets, well used parks, outdoor activities, more green space, low unemployment, a local grocery store, community gardens and orchards where people resolve conflicts nonviolently," Lauren Beriont, director of Sustainable Neighborhood Initiative at Sustain Dane, told the crowd gathered outside the Salvation Army. Beriont facilitated the community conversations, and managed the project throughout. This was the first time Sustain Dane partnered with Kilfoy on a public mural; a second project is underway in Madison's South Side.
Kilfoy, who served as the "conductor" of the mural project, along with a team of local artists, helped community members translate their visions into a piece of art.
She told the crowd that residents kept mentioning the importance of Worthington Park in their neighborhood, and one child in particular called it an "enchanted forest."
"And we thought, that's it!" Kilfoy told the crowd. "Worthington Park as an enchanted forest. So that's what we've tried to give you here."
The mural represents a number of features from the neighborhood. It depicts two people playing basketball, the bridge near the Salvation Army, and the local community gardens. The mural also has abstract qualities, as is evident from the faces on the trees, or the swirling blue background that leads to a shining white light.
"It's kind of a dream. It's a fantasy," said Sirena Flores, Kilfoy's granddaughter and a senior at East High School. Flores helped paint the mural, and in particular the people and realistic aspects of it, which she said are her strengths as an artist.
Nicole Wetzel, a local resident and member of Women of Worthington, a grassroots community group, contributed to the project from the start. She said that the words Darbo-Worthington often raises "red flags" in the minds of Madison residents, but that projects like this help emphasize its positive aspects.
"I do think something like this can be an awakening to identity," Wetzel said. "I think it kind of anchors us."
"There's several organizations in the neighborhood that are working hard to make this home for us. And those of us who live here want to make it home, so we keep investing and keep working," she said.