Creating community through reading and discussion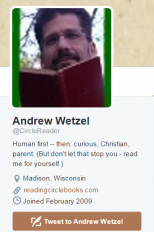 Andrew Wetzel started Reading Circle Books to engage people through discussion.Not long after relocating to Madison following years of teaching in Chicago's South Side, Andrew Wetzel went to a lecture by Timothy Tyson.
Tyson, an American writer, historian and former history professor at UW-Madison, was set to discuss his book "Blood Done Sign My Name," an account of race relations in 1970s North Carolina following the shooting of an African American Vietnam War veteran.
The lecture sparked the curiosity of Wetzel—a man who describes himself on Twitter as a "human first" and then a "curious, Christian parent."
"He captures the transition of this community over history," Wetzel said. "[I realized] I needed to get people together to read this book. I needed to do a book group. I can get my community together to do a book group like this."
In partial response to Tyson's book and lecture, Wetzel created his own blog and website called Reading Circle Books. He wanted to create a community centered on reading and learning.
"You can develop an intense engagement with people together online."
The website offers musings on a number of topics: faith, the environment, history, family and community. Yet Wetzel admitted life, including financial hardships, affected his ability to spend time developing the website.
"We are in an economy that says you can have a fairly decent job and still be eligible for food stamps," he said. "That's just how it is."
Today, Wetzel works at the hotel desk at Union South, a full time job, supporting his wife and five children on a single-parent income. Worthington Park, his neighborhood since 2010, is a place where unemployment, housing issues and food deserts continue to affect residents.
"If I learned a lot about cross-cultural things in my years on the South Side, I've learned a lot about living in poverty here," he said. "It's hard to develop a new thing when you're struggling to stay in the house."
A native of Chicago and a graduate of Lawrence University, he studied English and psychology in his undergraduate years. As his college career neared its end, however, he was at a loss of what to do next.
"I panicked in my senior year when I realized I didn't know how to do anything but read books like a good liberal arts student," he said.
He decided to move back to Chicago following graduation and enter the field of education. He spent obtained a teaching certificate from Chicago's Loyola University. This resulted in an extended teaching career at a number of South Side inner-city schools.
His career began with substitute teaching along Chicago's northern edge near the Rogers Park neighborhood, one of the most diverse places in the city.
"You'd walk down the street and hear 14 different languages before you heard any English," he said.
Whether teaching classrooms filled with Orthodox Jews, African Americans, Puerto Ricans or Mexican students, Wetzel found himself to be an outsider. In most instances, he was the only white guy in the room.
"In some ways it was really liberating," he said. "There's no suspicion about who's in charge and which culture is dominant."
His Chicago teaching career found him stretching his intellectual capacities. He would stay up at night reading about abstract algebra and finite geometry—material unfamiliar to an English and psychology student.
After years of teaching in the struggling South Chicago school system, he began to experience signs of fatigue, including bouts of burnout and depression.
"There was a lot of running on pure adrenaline and enthusiasm," he said. "A lot of people in the inner-city schools last five years. I lasted 10."
In time, Wetzel and his family struggled to find a place they could afford in the city. He realized they needed to relocate.
With family near the area, the Wetzel family chose to settle near Madison. They found an apartment in Sun Prairie and joined a church that had connections to their church in Chicago. Several years later the family moved to Worthington Park.
Not long after he moved into the neighborhood, he saw a sign advertising the Worthington Park Neighborhood Association.
The association was not anything special: four people in the basement of the Salvation Army building.
"It was not a very active group," Wetzel said.
Despite this, he saw a potential to become involved.
"It was part of that Christian background, that urban background about getting involved in the place where you are and you grow roots," he said. "You seek the good of the city where you've been put."
Alfonso Flores, president of the WPNA, said the association has a bank account and is incorporated with the state. He said WPNA is seeking to restore its tax-exempt nonprofit status with the IRS and is also a recipient of grants.
"We're growing," Flores said. "Creating those things people can be interested in and be a part of and get excited about is key."
Wetzel acknowledged the association, today, is still in a "pre-community stage."
"I don't think it's gotten big enough yet where it's outside of the individual members' social networks," he said. "Granted, there are people trying really hard to build bridges and make connections with people. But at this point it's one voice in the neighborhood. There can be a lot of friction."
Wetzel said poverty and tight budgets lie in the neighborhood's way of being able to accomplish development and other goals.
"There are some members of this community that like to keep to themselves," Dan Neff, a resident of the neighborhood, said. "I think that's because it is an evolving neighborhood."
Given his current interests in race relations and how communities function, Wetzel hopes — one day — to turn Reading Circle Books into an actual bookstore, a bookstore located in the neighborhood that could provide employment opportunities to its residents.
"Now I'm interested in what the community does with knowledge, and how knowledge gets out—how we teach ourselves," he said. "I wouldn't have been thinking in those terms if I hadn't been in a neighborhood that really needed jobs."
He is someone who, despite setbacks, remains actively engaged in his community—and interested in the world around him.
"If I lost my faith entirely my curiosity would remain."