Dance to Gain Balance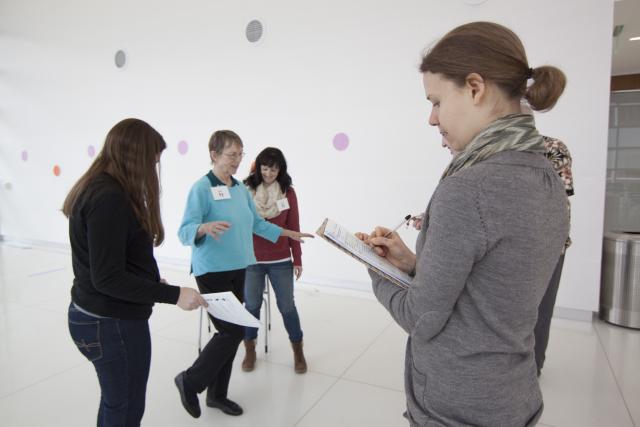 Alice Kissling completes her balance test at the beginning of the Ballroom Basics for Balance course. (Stephanie Jean Tsang/Madison Commons)
Alice Kissling, 68, has had two bad falls due to balance issues. Roger Kasper, 54, was diagnosed with Parkinson's disease and now has difficulty being stable. Roman Chavez, 78, could hardly manage to stand up a month ago due to a stroke.
Many people–not just the elderly–need help with their balance to reduce the odds of falling. Kissling, Kasper and Chavez, together with 12 other participants, recently signed up for "Ballroom Basics for Balance," a 12-week program held at the Central Library in downtown Madison and sponsored by the Madison Senior Center.
Unlike other balance courses, this program tries to make the routine fun with basic ballroom dance steps and music.
While doing all the boring exercises learned in therapy school, Susan Frikken, a licensed physical therapist as well as the creator and primary instructor of the program, thought, "Why don't we just put a little bit of music on and makes it into a dance? If you just make it a little more interesting, it'll be a class."
Indeed, participants have found this class to be more entertaining than what they have been doing in other facilities.
"He has been going to physical therapy too, but this is a lot more fun," said Susan Chavez, who joined the class with her husband Roman Chavez.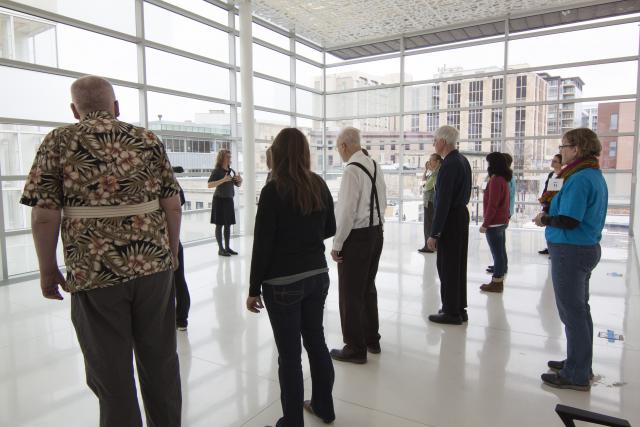 Susan Frikken instructs students in new dance steps. Students also get one-on-one assistance from 11 volunteers. (Stephanie Jean Tsang/Madison Commons)
Besides moving along with the music, the participants learn tips about risks of falling as well as how they can practice the moves in their daily life. For instance, they learn how wide their stance should be to maximize balance.
While some participants think that they should spare extra time to practice the steps, Frikken suggested the otherwise, "why not walk sideways when you need to move around from your bedroom to the bathroom?"
Student volunteers make this an even unique experience. The 11 volunteers are mostly PT and occupational therapy students from the University of Wisconsin-Madison but there are also students from Madison College and other community members.
Due to the availability of volunteers, the program can ensure every single participant dances in a safe environment.
"We give one-on-one attention. The students really change it. It's a big piece of why this class is so great," Frikken said.
The program not only helps participants support each other but also contributes to research.
At the beginning and end of the course, participants' static balance, moving balance, cognitive abilities as well as their ratings on quality of life are tested. Frikken and Megan Bjella, occupational therapist who also is a lead instructor and co-creator of the program, hope the data will help them deliver the program to other places.
"Because just the way healthcare is run these days, you are not going to take a program into a facility unless you have some evidence that it's workin–[evidence] that are measurable, that Medicare can reimburse," Bjella said.
Although right now Medicare cannot reimburse a group class, Frikken and Bjella think that the social element in the program is vital.
"I would like to see how group classes are reimbursed and how that is recognized by Medicare and other health care agencies. I think the social aspect is huge, and a lot of really quality health care can be delivered in that way," Bjella said.
Although they have not yet studied the data, Frikken and Bjella have been inspired by some participants who had significant gains in their balance.
"How much fun they have, that really speaks to me. Some people are incredibly inspiring. A woman went from using a walker all the time to not using the walker for some of the dances," Bjella said.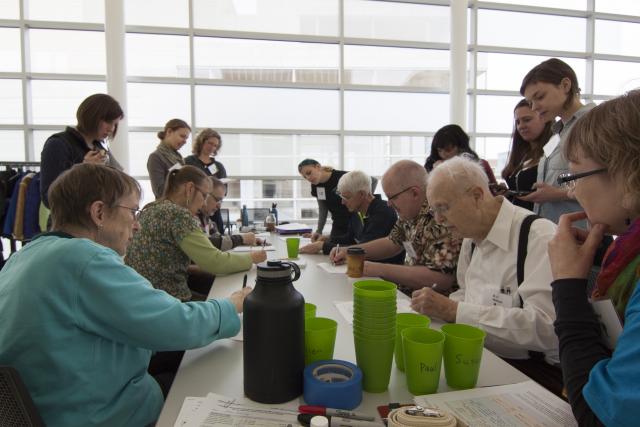 A cognitive test, completed at the beginning of the course along with balance tests and quality of life ratings, will help instructors evaluate the effectiveness of the course from multiple dimensions. (Stephanie Jean Tsang/Madison Commons)
According to Frikken, the program now aims to become more inclusive by adding Chicago-Style Stepping, a dance popular in African American communities.
"We thought it was important to show diversity in our class. People I've talked to say that we'll make it more attractive to people if they see people doing things that they're kind of familiar with," Frikken said.
The program also is expanding its brand.
"The best analogy is like Zumba," Frikken said. "In other words, we'll give you a workshop. When you sign up, you say, 'Okay, to call this class Ballroom Basics for Balance, I'm going to agree with these things. There are certain things we have to do.'"
Sarah Mattingly, a first-year PT student, will soon hold a class on her own through Madison School & Community Recreation. This will in fact be the first class to branch off from the program.
"I'm interested in taking my skills as a teacher and implementing them in [fall prevention]. In particular I like working with older populations. We'll have student volunteers, and we need as many as we can," Mattingly said.