Dogs enjoy the last swim of the season at the Goodman Pool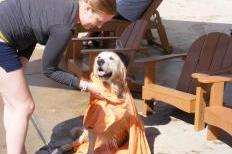 Matti with owner, Heidi SchlapperThe dog days of summer have come and gone, but Madison canines took to the water for one last summer splash. On September 9, at the Goodman Pool, the 6th annual Capital K9s Dog Paddle marked the end of the swimming season.
About 1,200 humans and more than 600 dogs of all ages, breeds, and sizes attended. Humans were banned from the pool, and the dogs freely roamed the water. Some took to the water without hesitation; others seemed a bit skeptical and watched or barked from the sidelines.
With plenty of tennis balls and Frisbees to pitch, the humans kept the dogs in a lively frolic. The event began at 10:00 a.m. and grew more crowded in the early afternoon. By 3:00 p.m. the crowd thinned noticeably, just before the Packer game.
When asked if her golden retriever Matti had fun, Heidi Schlapper said, "Oh my gosh, he did," as she dried the wet, grinning dog with an oversized bath towel.
Capital K9s, a nonprofit organization staffed by Madison volunteers, sponsored the event and donated the proceeds to the Madison Police Department K9 Unit. At the gate, admission cost 10 dollars for humans and 15 dollars for a human with a dog companion. Capital K9s also sponsors the Dogs in the Square event in spring.
Mary Sussman contributed all photos and text in this report.