Dual-enrollment program aims to make STEM degrees more accessible and diverse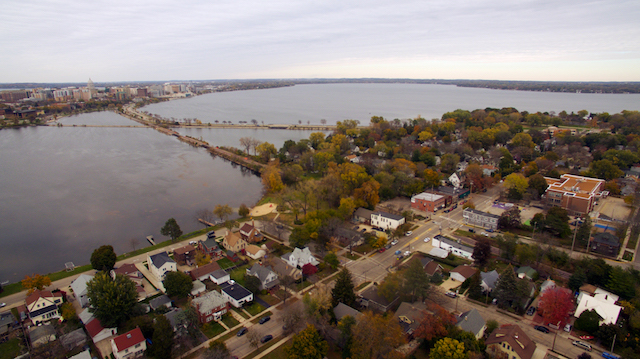 Looking north with Monona Bay on the left, and Franklin Elementary School on the right (Aaron Hathaway/Madison Commons)
The Early College STEM Academy, created in partnership between the Madison Metropolitan School District (MMSD) and Madison Area Technical College (MATC), will help make pursuing a STEM degree more accessible to Madison high school students; especially for students of color.
Starting in the 2018-19 academic school year, the program's first cohort of 25 junior and senior high school students will begin at MATC's Truax campus, and move to the new MATC South Campus by Fall 2019. The program will recruit students from La Follette and Madison East high schools.
In an effort to get more young people to move toward science, technology, engineering and mathematics careers, the program has identified college courses that also align with high school requirements, Keith Cornille, MATC chief of student services, said.
"The program allows students to save money and save time. It's about the long-term picture, earning credits and getting skills," Cornille said.
To be eligible for the program, students must have a minimum 2.25 GPA and a 90 percent attendance rate. The application, which is open now until January 19, requires students to list references, leadership experience and extracurricular activities, as well as an essay. There will also be an interview to gauge the students' interests, Alex Fralin, chief of schools for secondary education, said.
"[The application process] helps us get a window into why a student believes [the program] is a good fit for them," Fralin said. "We want to learn about students' interests, their academic and career plans and how those fit into their long- and short-term goals."
An initial information session for interested parents and students was incredibly well-intended and received a lot of positive feedback, Fralin said.
Parents asked many questions about whether or not their students would still be able to participate in activities such as athletics. While the course scheduling is not set in stone yet, Fralin says they are figuring out the details so the dual-enrolled students can still participate fully in after-school activities.
The program will attempt to correct representation issues by recruiting students of color and making sure information is accessible and widely available. One effective way to achieve this objective is to reach out to students personally, Fralin said.
Additionally, community partners can help the district get the word out about the program, and school counselors and the PTO boards at East and La Follette High Schools can contact students more directly, Fralin said.
"Our goal is to have more options for students and allow them to have choice in their pathways to graduation, particularly students of color," Fralin said. "We see this program is an equity program—more people can be successful."
Although the high school students will take some of the courses together as a cohort, in others they will be learning alongside MATC students. The courses will be taught by both teachers from MMSD and MATC, sometimes referred to as Madison College.
When discussing the program, La Follette mathematics teacher Jane Leussler expressed the concern that sometimes programs like these will help already advanced students, while leaving out students that have struggled in school.
"[The STEM Academy] sounds like a great idea in general," Leussler said. "But it's good to be proactive—require tutoring right away, have built-in academic support."
Fralin emphasized the STEM Academy courses will be demanding and rigorous, but the program is not just for advanced students; it is for any student expressing interest in exploring the STEM field. Student support will also be readily available. Students will have access to academic counseling, as well as Madison College student services, including services for mental health and disability, Fralin said.
Additionally, a required, intensive pre-program orientation "boot camp" is designed to teach students what to expect in a college setting, Fralin said.
"We want to give them the tools they need to succeed [in a college setting]," Fralin said.