FEED Kitchens: New location and new timeline for completion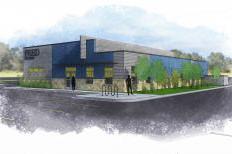 Rendering of the future FEED KitchensThings are heating up for FEED Kitchens. A location at NorthGate Shopping Center in the parking lot next to QQ Asian Buffet on Sherman Avenue became available and many constituents encouraged the Northside Planning Council (NPC) to consider it as an alternative to the original Pankratz Road site.
This spot has many positive aspects. There is better access and higher visibility, which will make FEED a strong north side resource.
There was strong support of the Center's owners, The Alexander Company, and other renters, leading to favorable lease stipulations.
The site can have a retail outlet, giving users an immediate opportunity to sell the products they prepare in the FEED Kitchen.
Fundraising to build the Food Enterprise and Economic Development (FEED) Kitchens continues while final details for the building and its use are solidifying.
An advisory committee of local business, nonprofit, and academic experts is at work developing policies and procedures on operations, staff, user education and support, finances and outreach so that FEED will open its doors ready to start cooking.
Community Support Network (CSN), will provide workers for the FEED processing team and cleaning crew. Asked about siting the FEED Kitchens at NorthGate, CSN Executive Director Deb Raettig said, "We are really looking forward to their arrival. We are excited about the great job opportunities for our clients. Additionally, we fully embrace the concept of the entire project and believe it will benefit so many in our community. Everything about the project is in line with our mission and nothing pleases us more than when we can be a part of helping our community become stronger, healthier and more connected."
NPC is moving ahead to build at NorthGate. The process of approvals for a new location results in a ground breaking date of March 1. FEED will open in August 2013 — in time to process next season's harvest.
One gratifying aspect of waiting just a bit longer to break ground is seeing the plans of users take shape, and seeing the possibilities grow as word of the community kitchens spreads.
When FEED opens, REAP (Research, Education, Action and Policy on Food Group) will have a permanent home for processing the snacks for their popular farm-to-school program. The lack of a permanent kitchen means that REAP runs the risk of having to discontinue providing healthy snacks to area schoolchildren. With FEED's help, the Madison Metropolitan School District (MMSD) will be able to access minimally-processed and packaged local produce for their new salad bar, providing fresh fruits and vegetables for up to 20,000 students when the program is fully operational.
Community Action Coalition's Manager of Food Security and Gardens is eagerly waiting for FEED Kitchens to open so that tomatoes and other vegetables can be processed into quality prepared foods and sauces, making local food available in area food pantries in the winter months. Thousands of pounds of these vegetables end up on compost piles every August and September when local gardeners donate them for distribution to pantries in quantities that can't be used in a timely manner.
The Dane County Public Health Department plans classes that complement their Farmers Market vouchers. Each class will shop at a market and then prepare their purchases in FEED's training kitchen, learning quick, fresh food preparation to increase seasonal vegetable consumption.
The River, the award-winning Northside food pantry, plans to operate a food business at FEED that will be a social enterprise to expand their ability to provide for the disadvantaged. Using curriculum similar to one developed at DC Central Kitchens, they'll train people in food service skills while they produce wholesale baked goods and provide commissary services to local businesses. Founder Jenny Czerkas said, "The FEED project is very important to us in 2013. We absolutely need a commercial kitchen site to follow through on our business plans and to begin to create employment opportunities for people who currently depend on food pantries and other programs to survive."
The most important aspect of FEED is its main purpose as a food business incubator. NPC began the project with an eye toward encouraging small business development and job opportunities for north-siders. Projections are that by its third year of operation, FEED will be turning a small profit. Those funds will support NPC's continuing work of improving our community for everyone who lives and works here.
Entrepreneurs are queuing up to start new food businesses. Others are counting the months until FEED Kitchens allows them to grow their businesses to the next level. Among them are an organic baby food maker, a caterer, a beekeeper, and several bakers. Many farmers and producers who sell at the Northside Farmers Market will utilize FEED's processing team to turn excess produce into value-added products that increase their income and expand their season.
NPC is within $110,000 of its fundraising goal for FEED. The FEED team has a lot of activities in the works to help raise the final amount needed to confidently start building and fund the first year's operation. You are encouraged to sign up on FEED's website to get news and specific info on all FEED events that are planned this winter.
FEED is a true community project. Amounts contributed to fund the project range from the $500,000 City of Madison Community Development Block Grant to coins that were dropped into a donation jar by a middle-school student who loved that FEED will help reduce food waste. Donations and grants have come from foundations, businesses and individuals. NPC thanks everyone who has donated time, money, and ideas.
Help NPC conclude its capital campaign by participating in one of the upcoming events or with a direct tax-deductible donation of any size. Facilitate the creation of the space and equipment that will allow all this good work to happen. Make a secure PayPal donation at the FEED website, or mail a check to Northside Planning Council, 2702 International Lane, Suite 203, Madison, WI 53704. Specify FEED Kitchen on your donation.
This article was originally published in the Northside News. Terrie Anderson is on the Northside Planning Council Board of Directors and serves as the FEED Kitchens Liaison.