Film series looks at key issues, highlights local work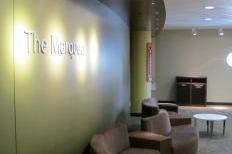 The Marquee Theater hosts the Havens Center's Social Cinema series on key issues. Madison's Operation Fresh Start will be part of a discussion on project-based learning after Wednesday's film (UW-Madison via Creative Commons).The film, If You Build It, tells the story of Emily Pilloton and Matthew Miller, two architects from North Carolina who decided work in the corporate world was not their calling.
Instead they put their skills towards promoting project-based learning, working with students to complete a yearlong construction project that teaches them more than just practical skills. This film details the way this work helps students develop a sense of ownership and pride by working in their community.
If You Build It makes its debut in Madison on Wednesday night, followed by a discussion with Operation Fresh Start, which is doing similar work here.
The film is part of the Havens Center for Social Justice's annual film festival, which begins this week. Housed in the UW-Madison Sociology Department, the Havens Center hopes to bring issues that are of national social importance onto the film screen while exploring how they apply to the Madison community in a post-film discussion.
"One of the main elements of the Havens Center's mission is to create dialogue and intellectual exchanges about issues of critical social thought," said Havens Center administrative director, Patrick Barrett.
"It's an organizing opportunity," Barrett said. "Seeing the film and engaging in conversation gives the audience the ability to engage themselves in doing something about the issue."
"But that's not just on the campus," he added. "It is also very important to establish those dialogues between those off campus as well."
Barrett said that the Marquee Theatre, which is free and open to the public, provides an opportunity to bridge the gap between the university and the community.
Sponsored by Sector 67 and the Madison chapter of the American Institute of Architects, If You Build It will be followed by a discussion led by Brian McMahon, program director of Madison's Operation Fresh Start (OFS).
OFS serves youth age 16 to 24 working to earn their high school diploma while learning job skills in two areas – building affordable green housing or working on conservation projects in the community.
"The heart of OFS is the relationship with the teacher and the construction supervisor that are helping young people get technical skills and settle their educational pieces, all while addressing what personal issues are going on in their lives so they can move forward towards a brighter future," McMahon said.
In both OFS and the film If You Build It, students engage in project-based learning where their education can be contextualized in construction projects.
"It's working with these young people who for whatever reason maybe the traditional high school or classroom setting isn't the best for them," McMahon said. "The participants here are tactile learners – they learn by seeing and doing."
OFS is a nationally recognized program that has positively changed 7,500 participants' lives in the last 45 years. Some 80 percent of those who enter the program, complete it and find a self-sustaining job or pursue post-secondary education, according to OFS.
"When I first came to Operation Fresh Start, affordable housing attracted me, especially green-built housing," McMahon said. "But I quickly realized that this was just a secondary benefit. It's really about leading your crew of 10 to 12 young people on a path towards self-sufficiency."
OFS is actively working against the racial disparity and achievement gap in Dane County. According to OFS website, Dane County has more than 3,000 disconnected youth age 16 to 24, many of which are people of color and have not obtained a high school diploma.
"These young people have been disconnected from school, and they simultaneously feel disconnect from the community or society," McMahon said. "OFS can be a neat way to tie young people to the community and the community back to young people, which is a huge resource."
Calling Fresh Start a "jewel for Madison," McMahon wants the community to be aware that young people are a resource with skills that should be valued.
Havens Center administrative director, Patrick Barrett, hopes that the Social Cinema film series is a way to increase community awareness of programs like Operation Fresh Start and to make people engaged citizens.
"The more people discuss, debate and consider competing ideas and perspectives, the better for all of us," Barrett said.
The Social Cinema series takes will take place on Wednesdays at the Marquee Theater in Union South, starting with If You Build It at 7 p.m. on Feb. 11.