For Sherman Middle School principal, challenges are relative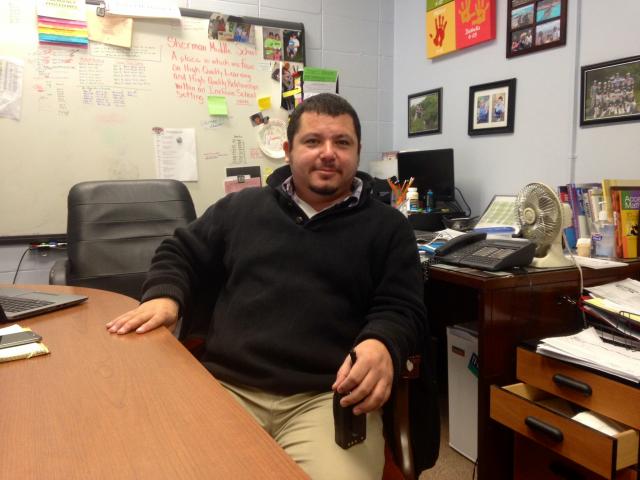 Sherman Middle School Principal Mike Hernandez has helped the school achieve gains academically (Abby Becker/Madison Commons).
Before Mike Hernandez came to Sherman Middle School in 2005, three other principals had walked in and out of the front doors in four years, and the district was looking to shut down the building.
"You saw panic in people's eyes, Hernandez said.
Sherman Middle School on Madison's North Side was "not in a good place," Hernandez said. A lack of consistency with the school's administration and a combination of social factors was negatively affecting the student body.
But Hernandez has experience jumping into crisis mode.
Originally from San Diego, Hernandez returned to his home state after playing baseball at Bowling Green State University in Ohio. After college, he began teaching in California middle schools, including Shepard Middle School, which was considered one of the most dangerous schools in Southern California during his second and third year of teaching.
"You walked out one doorway, on one side of the street it was all Latin Kings. You walked out on the other side of the street, it was all Gangster Disciples," Hernandez described.
Across the street from the school sat three prisons, two minimum-security and one maximum-security. The school is located on retired air force space and features ten-foot fences with barbed wired.
"Instead of doing fire drills, we had to do prison break drills," Hernandez said.
He recounts a morning after he first spoke with the community when he adamantly stated that the school would not turn a blind eye to local gang activity. Usually Hernandez was the first to arrive at the school, but that morning, workers carrying plywood to cover his shot out office windows beat him to it.
"The community wanted to believe in you, but the people living in the community, the people who made the calls, the shot callers, the gangsters, they didn't want you there," Hernandez said.
He figured out if we met with the bosses, the "original gangsters" of the community, he could come to an agreement.
"I let their business be their business, as long as it didn't affect our school," Hernandez said.
Although gang activity was somewhat under control, the school experienced incidents students should not have to encounter: drive-by shootings, lockdowns, violent crime.
"We had kids killed. We had kids who were killing people. We had kids that were rapists and were raped," Hernandez said.
So when Hernandez arrived at Sherman, he saw that challenges are relative.
"To me, this was nothing," Hernandez said. "This is not bad at all because I'm used to wrestling a kid and taking a gun off of a kid and sitting down and having an eighth grade girl give birth on the first day of school."
His ability to remain calm in high-stakes situations has carried over to his work at Sherman Middle School.
While some teachers were skeptical of Hernandez and his plans because they feared he was using the school as a career stepping stone, he has remained at Sherman*, bringing consistency, commitment and new ideas.
A 10-year plan written out on poster-sized paper hangs on the wall of his office, showing a steady progression of accomplished goals for the school.
After half a year on the job, Hernandez implemented a Positive Behavior Supports method in the school, the first school in the Madison Metropolitan School District to do so. PBS is a behavioral correction strategy that focuses on positive behavior and celebrates those actions while also teaching tools to adjust negative behaviors.
On Mondays, Sherman dedicates time to teach "Cool Tools," and actively demonstrates a model to teach and promote positive behaviors as part of the PBS system. When Hernandez first introduced the new system, he compared the method to teaching students educational skills.
"I made a connection to if we have a student who can't read, we don't just hand them a book and say read, we teach them skills to do it," Hernandez said.
The PBS system has proven to be a successful method at Sherman, so much so that the district saw the changes in the building and began allocating PBS resources for all middle schools in the Madison school district.
"Luckily we're not in a position where we're chasing behaviors around because we've had some serious consistency over the last several years in which we've been able to shift from punitive and reactive, and we work on preventative," Hernandez said.
The biggest challenges Sherman faces, Hernandez said, are tied to economic instability that affects students' home lives.
According to the Madison school district's website, approximately 76 percent of Sherman Middle School's students are low-income students. Hernandez estimated that 28 languages are spoken in the building and about 40 percent of students speak English as a second language.
Educators and students are facing challenges with the mobility of their students due to situations in their home life. Hernandez said Sherman Middle shares many of the same students as Blackhawk and O'Keefe as families are constantly on the move.
"There's a little pipeline that goes through as people run from evictions," Hernandez said.
Students can attend school for a whole year, yet miss a large portion of the curriculum if they are switching to a school that operates on a different academic schedule, Hernandez said.
Despite that, Hernandez said he can't remember when a fight last broke out in the school, and three of the last four years the school has received distinguishing marks in the state.
"By all rights and accounts with the demographics we have in this building, we should not be academically successful," Hernandez said.
Of course, measuring success is relative. Hernandez points out that while 30 percent of the students are proficient at grade level, the students are meeting their growth targets.
Sherman Middle has become known for its total care approach. According to Hernandez, parents come to the neighborhood to make sure their kids can attend Sherman Middle School.
In addition to providing for students' academic needs, Sherman Middle School aims to care for the entire well-being of the students. The school has a center for families where they can have a place to relax and access computers.
"We have the largest or second to largest transfer-ins into our building, which is ironic because eight years ago we had the largest number of transfer-outs," Hernandez said.
Hernandez and the teaching staff at Sherman provide for all their students, even giving rides to and from school, and Hernandez said he works to balance his role as a principal with his responsibilities to his family.
Before Hernandez took his first principal job, he and his wife, who is also a teacher, sat down and came up with list of what makes a good principal and what makes a bad one, concluding that "a good principal lives the job."
But during prior principal positions, Hernandez was working 15- and 16-hour days and becoming an "absentee father" to his children.
"I became the person I was telling people they can't be if they want to keep their kids out of trouble," Hernandez said.
At that point, he and his wife wrote out what qualities make a good father and noted that the two lists conflict. Hernandez then sought out a different job in order to spend more time with his family.
In his current role at Sherman, Hernandez leaves his house every day at 4:30 a.m. to accomplish his personal work before students arrive. He is able to be at home two days a week for dinner, and on other nights he helps his three kids with their homework and puts them to bed. He also uses FaceTime to touch base with his family during the day and set up email accounts so that his children can email him their best and worst parts of their day, or as the Hernandez family calls them, "roses and thorns."
Kristen Nelson, Sherman's Parent Teacher Association president, said Hernandez's family-oriented mindset parallels his actions as a principal and has the ability to reach out to middle school-aged students.
"He just has this rare ability to connect with the kids that are having the toughest times," Nelson said. "He connects personally, no matter what your background or race."
"He stands up for what he believes in, for what's the best for the kids," Nelson added.
Hernandez's commitment to Sherman Middle School runs deep. Between prioritizing his family and reaching his goals as a principal, Hernandez has been able to balance his two lists.
But on Sherman's list, there are still unchecked boxes.
"We still have a lot of work to do, but kids are coming here and they feel safe and they're learning," Hernandez said.
*This sentence has been edited for clarity.