Fresh food scarce resource in Madison's food deserts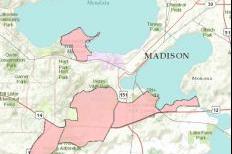 Credit: USDA Food Desert LocatorMadison may boast the largest producers-only farmers market, yet fresh food can be hard to come by for those living in Madison's food deserts.
The USDA's food desert locator identifies five areas in Madison where residents lack both financial and physical access to healthy and affordable food. Take out the student population near the University of Wisconsin-Madison, and four food-barren neighborhoods remain.
With the exception of the UW-Madison Eagle Heights neighborhood, all of these food deserts are concentrated in south Madison. The four food deserts line the Beltline, one after the other, from Verona Road to the southern shores of Lake Monona.
"When you look around and really question why food deserts are in certain areas, you see the south side is where a lot of low income people live and people of color," said Mario Garcia Sierra, director of programs at Centro Hispano.
By definition, a food desert is a geographically bound census tract that meets low-income and low-access requirements outlined by the USDA. An area's poverty rate must be 20 percent or higher, and at least a third of the population must live more than one mile from a supermarket or large grocery store.
"When you have a lot of financial restrictions, you really don't have the opportunity to think what's best for you, for your kids, for your community," said Sierra. "You are just making decisions coming from the stress and reality of your situation."
In addition to income limitations, issues like transportation and workforce participation rates underlie food deserts.
Census data from 2010 shows higher unemployment rates in these areas, ranging from 6.7 to 10.8 percent in the south side food deserts compared to just 5.6 percent for the city of Madison.
But Milwaukee and other large metropolitan areas have higher unemployment rates and more extensive areas of food insecurity, said Steve Ventura, a professor of soil science at UW-Madison.
Ventura is a co-director of the Community and Regional Food Systems project, a USDA-funded research project that examines urban food systems in Madison, Milwaukee, Chicago and Detroit.
"Madison is a relatively affluent city, with low unemployment and high educational attainment," said Ventura. "We do have these pockets of food insecurity, but they are relatively limited in scope, and there is a pretty good social service network in Madison."
But language barriers can limit participation in benefits programs when people don't understand available services, eligibility requirements and paperwork, said Sierra.
Food deserts, then, become a social justice issue when ethnically diverse neighborhoods experience them at disproportionately higher rates.
In these south Madison food deserts, Hispanics make up 16-35 percent of the population and African Americans make up 16-24 percent. In comparison, the city of Madison's total population includes about 6 percent Hispanic and about 6 percent African American residents.
"At the end of the day, it's an issue of how racism works in the city," said Sierra.
Sierra thinks the problem has built over years as the Latino community in south Madison has been neglected and uninvolved in decision-making processes.
"Yes, Madison's a great city. But, it's not a great city for everyone—especially if you are a person of color and you have very few resources," said Sierra.
Community members are taking steps, though, to improve food access and revitalize the neighborhood.
Steve Maurice, assistant director of the Catholic Multicultural Center, established a South Madison SHARE drop off site at their Beld Street location this January. SHARE is a non-profit food redistributor that offers food priced 30 to 50 percent less than grocery stores.
Community members come to the Center once a month to pick up their orders, which mostly include produce and meat products, said Maurice.
"I can get a lot of good health food, use my food stamps, and save a lot of money," said Michael Collins, an employee at the Center.
SHARE is an example of what Ventura calls "the new breed of social entrepreneurs," referring to people interested in social goals rather than profit. He thinks these entrepreneurs and non-profits will bring change to the community and the food system. These people, he said, recognize the health and community benefits that come from improving access to fresh and nutritious food.
"Across the spectrum, it's going to take innovators to change the way we do business," said Ventura.
Centro Hispano is one such organization with social motives. Their summer garden program seeks to expose youth to gardening techniques, nutrition and cultural components of food.
While Sierra admits they don't produce enough food on their small plot to address food insecurity in south Madison, he says that is not their goal. Rather, they are seeking to engage young people in conversations of urban agriculture and social justice issues.
"For us, it's not the end product but just the process," said Sierra.
Centro's garden program is part of the growing trend of garden-based learning. In Madison, over 30 schools have gardens.
"If you can make a change in the youth," said Ventura, "that will be a long lasting and enduring change."