Gardening inmates give back while earning skills, wages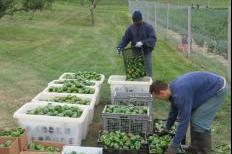 Garden at Oakhill Correctional Institute
As the last bits of color dissipate from the trees around Oakhill Correctional Institute in Oregon, Wis., and the skies grow bleaker, the inmates in the minimum security institution find a splash of color and small reminder of spring when they look down at their plates.
The meal consists partly of produce from the institution's garden. Ten inmates see the product of their work growing and harvesting the produce, for pay of about 25 cents per hour, according to Tim Le Monds, a spokesperson for the Wisconsin Department of Corrections.
Oakhill's garden is one of more than a dozen at correctional institutions in the state, and it serves as a model -- one of the most rooted and robust programs. Since its inception in 1996, the four-acre, 6,000-plant garden has produced about a half a million pounds of produce.
As with most of the gardens at correctional institutions, most of the produce goes to the kitchen of the institute, but the rest the gardeners pack up as donations. This fall Oakhill sent about 4,000 pounds of food to the Second Harvest Foodbank of Southern Wisconsin and saved about 60,000 pounds for its own kitchen.
Le Monds said this saves the kitchen about $20,000 in food costs every year. It also provides the inmates with the opportunity to develop skills to move up to a more coveted position at the institution or look for a related job after release.
"We're very interested in reentry, and preparing inmates for release and reintegration to society. This is a solid way to provide some kind of skill-set while they're incacerated that they may be able to apply."
The program also offers the chance for inmates to have a postitive impact that reaches out of the institutions' walls.
"Some inmates do want to give back to society in a way, and this gives them an opportunity to do something good," Le Monds said.