Going beyond the plate with Madison food tours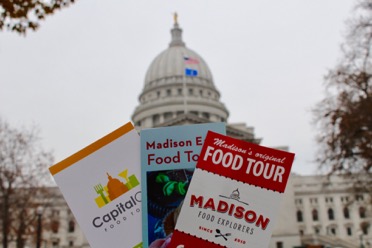 Food tour brochures in front of the Wisconsin State Capitol. Each company provides their own unique downtown food tour (Daniella Byck/Madison Commons).
Diving into the Great Dane Pub & Brewing Company's Brat and Pretzel Burger felt like sinking teeth into a Wisconsin culinary history lesson. A juicy beef patty is topped with a savory bratwurst burger, smoked bacon and stout-caramelized onions. The pretzel bun was oozing with a luxurious layer of Wisconsin's famed sharp cheddar, exuding a perfume of fragrant comfort.
The burger tasted like a culinary representation of the state. Even the restaurant's brick laden home was ensconced in a rich backstory: the Great Dane is nestled in the old Fess Hotel, a building on the National Register of Historic Places and a designated Madison landmark.
But without any guidance at an average Sunday night dinner, the lesson ended with the final bite.
For Brittany Hammer, the founder and owner of Capital City Food Tours, the quintessentially Wisconsin burger was just a jumping off point for a larger story. The Great Dane was the first of five stops for participants on her three hour Around the Square walking tour.
"Almost no one knows the story behind Eliot and Rob the owners, and what brought them to Madison and how they named it the Great Dane. And so telling people that, how much they give back into the community, that's what really creates that connection," said Hammer.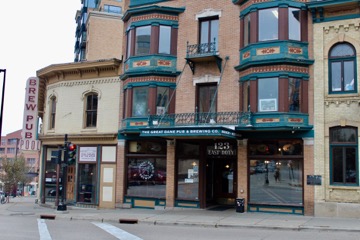 The Great Dane Pub & Brewing Company is the first stop on Capital City Food Tours' Around the Square Tour Daniella Byck/Madison Commons)
Capital City Food Tours is one of three Madison food tour companies that has brought the stories behind local establishments like the Great Dane to the forefront of the eating experience. Food tours have combined these activities into a singular experience that elevates local restaurants in the hearts of consumers. Food tours have acted as preservationist of Madison's food scene, creating a human connection that has enticed participants to return to these distinctly Madison spots.
"My personal mission is to be an ambassador for these locally owned food establishments and the artisans and farmers in our communities," said Otehlia Cassidy, the founder and owner of Madison Eats Food Tours. "And we do this by telling their stories or having them tell their own stories."
Food tours first came to Madison in 2010 with the establishment of Madison Food Explorers. Madison Eats Food Tours followed in 2012 and Capital City Food Tours most recently joined the industry in 2016. Across companies, tours range in price from $30 to $65. In addition to the regularly scheduled tours, companies offer private, custom tours with pricing tailored to the excursion.
While tours typically have been on foot, custom tours opened the door to other options such as bus tours and bicycle tours. Madison Eats' bicycle tour has featured a four hour, brunch themed expedition during the warmer weather months.
"It is non-competitive, and for anyone who enjoys a casual bike ride," Cassidy said. "It typically attracts guests who may want to see more than one neighborhood, or explore Madison from a different perspective, and people who enjoy biking and brunch."
Tour participants are led by guides to multiple food locations with culinary offerings at each stop. Guides also provide typical sightseeing information on the historical, cultural and architectural components of the city. Excursions are themed by neighborhood or geographic location, such as Madison Eats' downtown Taste of Wisconsin lunch tour.
"It gives them a little sample, a little taste of what it's like to come here and a little hint of what the downtown restaurant life is like in general...it's not just about the food but also the experience," said DLUX's Assistant General Manager, Ben Kosmatka. DLUX is a partner of both Capital City Food Tours and Madison Eats.
By spotlighting local establishments, the tour guides have created a connection between consumers and the individual players in the system. Tour participants have been exposed to the intertwined relationships between farmers, vendors, chefs, restaurant owners and their importance to the Madison food system.
"I think that really being able to connect what you're eating and why it's important to a certain history or culture just makes it that much more profound," Hammer said. "So that's why for food tours, really connecting those dots is what makes you want to go back and eat."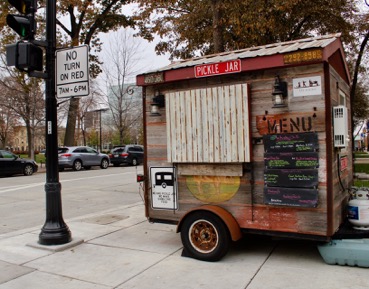 articipants on Madison Eats Food Tours sample homemade pies at the Pickle Jar food cart (Daniella Byck/Madison Commons).
In addition to providing context about the Madison food system, tours have illustrated the uniqueness of each location and the stories behind each food experience. Creating that human touchpoint behind different dishes and restaurants tours has created an incentive to return to local businesses. Sometimes, all it takes is a bite to whet a participant's palate for more.
"One time I worked with Pickle Jar, the food cart, and it was a Facebook post they said 'we're so pleased because somebody came to our cart who had been on [Madison Eats'] food cart tour and they loved the pies so much they wanted to come back for the barbecue,'" Cassidy said.
The City of Madison has recognized the role independent food tour companies could play in the city's future tourism endeavors. According to the City of Madison's Madison Public Market Business Plan draft, they hope to "work with organizations and business like Madison Eats Food Tours to host Public Tours."
"There's no reason that we should be developing business and systems from scratch if there are existing business and systems that are doing well that we can collaborate with," said Amanda White, a consultant for the Madison Public Market Foundation.
As a part of the tourism industry, food tours have provided visitors with a culinary and cultural snapshot of the city. However, residents may be surprised to find that these flavor-filled excursions are also appealing to Madison's local population.
"I've had people on the tour who have lived in Madison for 40 plus years and my goal is always to teach someone something new about the city in addition to having them taste something that maybe they haven't tried before," said Hammer.
At the Great Dane, Hammer has helped participants on her tour discover more than a new favorite burger. Tour attendees have left with full stomachs and a fuller perspective on the restaurant's history of giving back to organizations in the community.
"When someone thinks like 'oh, we could go to the Great Dane,' they have all of these emotional aspects to that restaurant now that is going to make them want to go back. And so for me, sharing those stories is really important," Hammer said.
For more information on food tours in Madison, visit here.