High School Credit Union Offers Students Hands-on Financial Experience
By Qi Gu | Sat, 04/23/2011 - 12:34pm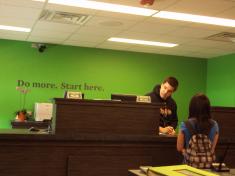 Credit Union La Folette branch: Summit CU La Folette branch.At 11:30 on Thursday mornings, as other students rush to the school cafeteria, Alex Kiefer starts a shift at his internship, just steps away. For the next 45 minutes, he handles new account requests, deposits and withdrawals from his teachers and classmates at La Follette High School.

Kiefer is part of the school's new project that aims to improve financial literacy among students.

Launched this January, the in-school, student-run branch of Summit Credit Union is the first of its kind in Dane County.

Spearheaded by Darrin Graham, who teaches business and marketing at La Follette, the project materialized after five years of planning.

"It's a great starting point for conversations with our students about saving, budgeting and personal finances," Graham said.

In addition, Principal Joe Gothard sees the branch as "a laboratory of learning," which offers his students hands-on experiences in the field of financial management.



Funded by Summit Credit Union, the branch sits at the school's main entrance. It features two teller lines run by student interns and operates every weekday during lunch hour, serving La Follette students and staff.

According to Jenna Gordon, branch manager and La Follette alumna, the office handles many of the same transactions as a regular Summit branch, including loan applications.

"We are really excited to be on site to be able to help our students," Gordon said. "[We] help them with financial literacy, to better understand what kind of options they have, not only to help save today with the saving tools, but also down the road."

For student interns, this credit union project offers an opportunity to work in a professional setting and gain work experience even before attending college.

Kiefer works here two to three days a week. The La Follette senior is interested in accounting and finance but before the teller internship, most of his accounting knowledge came from the classroom.

"I'm here to get experiences and find out what it is like in the real business world," he said.

This fall, Kiefer will start studying accounting at the University of Wisconsin-Whitewater.

To intern at the branch, students go through a full week of training with other new employees of Summit Credit Union.

"Of course, the training is tailored to them because they don't need to know everything our normal staff would at a branch," said Gordon. "But the basics of the training are not that different."

Now that the La Follette branch is in full swing, Graham is setting his sights on bringing financial literacy to the rest of the community.

"We'd like to have possibly workshops for families of our students at night," he said. "Not only do we want to impact our student body, we'd also like to impact the families of our students in terms of their knowledge of personal finance."

Graham added that some Wisconsin school districts make financial literacy education a graduation requirement, but Madison is not one of them.

La Follotte is part of a growing club of high schools-credit union partnerships in the state. According to Wisconsin Credit Union League, by the end of 2010, the state had 109 student-run credit unions.

Superior School District in Northwestern Wisconsin, for example, hosts youth-run credit unions in all its schools, including at its six elementary schools.

In Madison, Memorial High School is considering following La Follette's lead and opening a credit union branch, said Graham.