Jewish organizations provide free Shabbat meals to students
It can be easy to get wrapped-up in the fast pace of this day and age, especially as a college student where the future is a constant concern. The weekly Jewish holiday Shabbat, the day of rest at the end of the week, is supposed to remind people to focus on what is truly important.
Organizations at UW-Madison like the Jewish Experience of Madison (JEM) help spread this message by providing free Shabbat dinners for students every week.
JEM is a non-profit organization dedicated to Jewish education. It opened seven years ago, according to Shira Avitan, one of the JEM team members. Avitan and her husband, Rabbi Elie Avitan, moved to Madison from Israel where he was studying to become a Rabbi. This is their second year at JEM.
The group has an office on State Street, but hosts most of its events at The JEM House, in the heart of a large student neighborhood at 233 Langdon St. One of those programs is Shabbat dinner every Friday night and Shabbat lunch every Saturday, free of charge for students.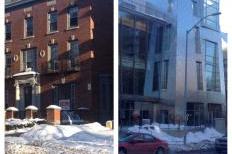 JEM (Left) and UW Hillel (Right), Photo Credit: Jessica LevineAccording to Shira Avitan, Shabbat is a time to focus on what is important to us in life, instead of what is urgent:
"What is more important, your mother or your exam tomorrow?" said Avitan.
Exam or not, this Jewish holiday starts at sundown on each Friday and ends on Saturday at nightfall. During this time of rest, those who observe Shabbat to its full extent must refrain from doing any creative activity.
A creative activity includes the act of cooking, which is why Avitan usually starts preparing for Shabbat on Wednesday by planning the menu and occasionally grocery shopping. Thursday night Avitan does most of the cooking, with some help from a few girlfriends, and she finishes the preparation Friday morning.
In order to have a hot meal for Shabbat and still respect the rules concerning creative activity, it is common for people to use electric hot plates with timers or preheated ovens to keep the food warm.
Cholent, a hearty stew, is also prepared early and kept hot in a crockpot overnight for Shabbat day. The stew is usually made with meat and vegetables like barley and potatoes, according to Avitan. "It is very hearty and warm," she said.
Other traditional food and dishes for Shabbat dinner include Challah, a braided egg bread, chicken soup with matzo balls, meat or chicken, and kugels.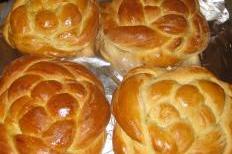 Challah bread, Photo Credit: Shira Avitan
Kugel "means a round pot," said Avitan. It is similar to a casserole dish and has many variations such as mushroom kugel, sweet potato kugel and apple kugel. Many kugels incorporate noodles into the recipe as well.
Shabbat is a special time for the Jewish community, so it is also a time to eat and enjoy foods that are nicer than what a person would normally consume during the week.
Red wine is usually present during Shabbat because many Jewish rituals are done over a glass of wine, said Avitan.
Keeping kosher is another significant part of Shabbat and Jewish tradition, although not all Jewish families abide by this law. Kosher refers to food that is prepared and consumed in accordance with the Jewish dietary laws. Some of the foods that are not acceptable include shellfish, pork and bugs.
"We want to make sure things are kosher. We are very careful about that ... it is very important to us," she said.
Part of keeping kosher means that meat and milk can never mix in any way. This means separate dishes, ovens, and even refrigerators for strict followers. According to Avitan, Trader Joe's sells kosher meat and chicken, but most super markets carry kosher options as well.
"We try to keep things very authentic," said Avitan, but students who have never experienced a Shabbat dinner should not be concerned with knowing all the traditions immediately.
"We try to make it more of an interactive experience. People that maybe haven't ever had a Shabbat meal can feel comfortable," she said, "we sit, and we talk, and we sing, and we take that break. It's something that I look forward to every week."
"JEM's Friday night dinners remind me of (Shabbat) dinners from my youth," said Madison Senior Ami Blasberg. "Friday nights at JEM allow me to set aside school for a brief time and enjoy a delicious, warm, free dinner with caring people."
Perrin Shapiro, also a senior at UW-Madison, has been to JEM Shabbat dinners as well as Chabad and Hillel Shabbat dinners, both Jewish organizations on campus. Chabad and JEM are more traditional than Hillel dinners, according to Shapiro.
UW Hillel's Director of Jewish Student Life Jennifer Jennings said Shabbat "is an important part of our Hillel program because we are a Jewish organization, and it is an integral part of Jewish life."
Shabbat is also an opportunity for students to "enjoy and engage in Jewish culture and tradition," she said.
There are many reasons that people come to Shabbat dinner, according to Jennings. Some people come because it is a reminder of home or just to be with friends and have dinner together.
"It's really great that they provide [Shabbat dinner] for students. It's a little taste of home ... a way to meet other Jews and be part of the Jewish community," Shapiro said.
Although she does not consider herself to be a strict follower of all the Jewish traditions, Shapiro values Shabbat for its tradition:
It's "a time to get together with my family every week ... there is always good food and good times."