Johnson Public House owners venture into roasting with Kin-Kin Coffee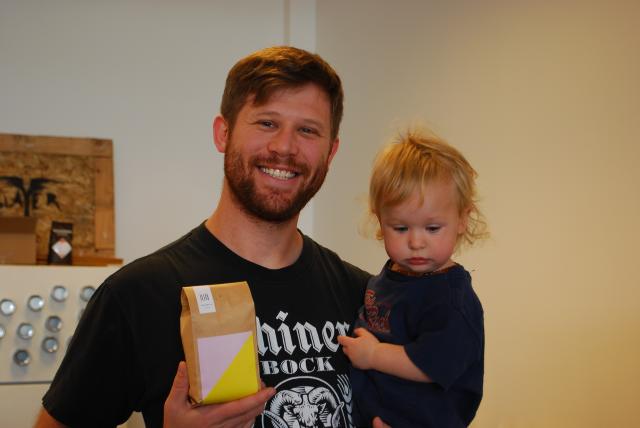 Kyle Johnson, seen with his daughter Etta, holds a bag of Kin-Kin's Guatemala coffee. The new specialty coffee is available at Johnson Public House and the planned coffee shop, A-OK (Aparna Vidyasagar/Madison Commons).
Behind a rippled aluminum garage door, among a set of warehouses, sits Gwen and Kyle Johnson's latest venture into the world of coffee -- Kin-Kin, a small batch roastery.
For the owners of their eponymous coffee shop, Johnson Public House, the step from brewing coffee to roasting it was always the plan.
"We knew we wanted to get into roasting, but we had never roasted before. We definitely had an advantage of bringing in other people's coffee, who were doing it very well [to Johnson Public House]," Kyle Johnson said. "So we knew what we wanted our coffee to taste like, and the quality that we wanted to hit."
Two years ago, both Gwen and Kyle began their training process. They attended coffee roasting workshops with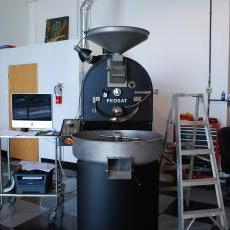 At Kin-Kin, the Johnsons roast 15-pound batches of coffee at a time (Aparna Vidyasagar/Madison Commons). Intelligentsia Coffee and Counter Culture Coffee. A year later, they took the plunge and bought a small sample roaster. They would roast small, 100-gram batches of coffee; brew it, and taste it ("cupping"), making adjustments along the way. They tend to like "bright, fruity, exciting, coffees" Kyle Johnson says, but they also aim for their roasts appeal to a broader taste profile.
"It starts from that [sample roasting]" Johnson said. "[Then] we start talking about how are we going translate this to the production roaster, and build a profile that's going to best show off what that coffee is going to offer."
The large Probat-brand roaster stands apart in the stark warehouse space, and churns out 15-pound batches of roasted coffee at a time. Along one wall of the warehouse, large green bins hold 130 pounds of green coffee beans imported from Costa Rica and Panama. And even though the Johnson's have debuted their first line-up of coffees, they still experiment with flavors from other regions. There are sample-sized bags of more green beans from their coffee suppliers in a metal apothecary's cabinet.
Once done, the beans are packed into signature Kin-Kin bags -- brown paper, with a bright, geometric-patterned, square.
Essentially you are saying, this is you who you are in a package," Johnson said of the design. We wanted something warm, friendly, approachable and unique at the same time. The name Kin-Kin comes from "friends and family" he adds.
Kin-Kin made its debut at Yum Yum Fest in September of this year and the retail store went online that same month. Customers can also purchase Kin-Kin beans at Johnson Public House. However, the coffee shop will continue to serve and sell coffee from multiple roasters.
"We'll always bring in other people's coffee," Johnson said. "I think it's nice to celebrate what other people are doing."
To showcase Kin-Kin, the Johnsons have yet another project in the works. In the coming weeks, they expect open A-OK (at 829 E. Washington Ave.) their second coffee shop. There, they will exclusively serve Kin-Kin coffee.
With their entry into roasting, the both Gwen and Kyle are participating in yet another facet of bringing coffee to their customers. And it's one that they are excited about.