Local public arts program engages community and inspires at-risk youth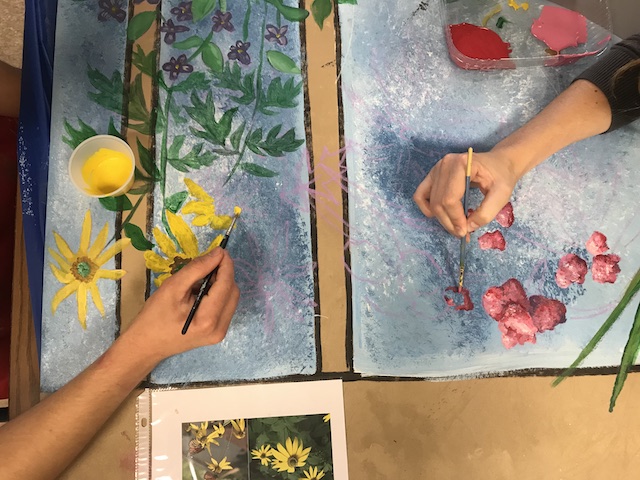 Students paint a mural for Madison's South Police Station at Hoyt School (Erin Green/Madison Commons).
A high-school student stood near the door of a classroom in Hoyt School, observing quietly as his classmates painted. He appeared nervous to join in. Artist Sonya Sankaran calmly handed him a paint brush and reassured him that mistakes could always be fixed.
Soon, the student was painting flowers alongside his classmates.
The student is one of many around Dane County who have contributed to public murals with Dane Arts Mural Arts (DAMA). Since its start in 2015, DAMA has produced more than 25 murals, but this public arts program has transformed more than just walls—it has transformed young lives through self-esteem building. DAMA's mission is to not only beautify the local community, but to also foster a sense of belonging in residents, especially at-risk youth.
On October 20, students in West High School's SAIL Program gathered at Hoyt School to continue painting a mural for Madison's South Police Station. "I am no longer accepting the things I cannot change. I am changing the things I cannot accept," announced an unfinished banner draped over the work table.
Junior Jayden Burcham proudly stated that he had chosen this quote by Dr. Angela Davis after DAMA artists requested his input. He sat down to begin painting the words, with some assistance from the artists. The banner would eventually hang in Hoyt School's hallway.
Echoing Davis's words, DAMA was created by the Dane County Cultural Affairs Commission to change some things they considered unacceptable.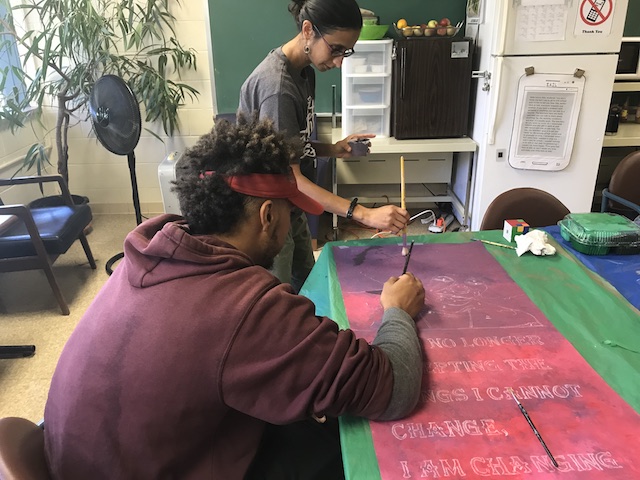 West High School SAIL student Jayden Burcham paints a banner intended for Hoyt School's hallway (Erin Green/Madison Commons).
According to the 2015 Dane County Youth Assessment Report, nearly 20 percent of all middle and high school students reported that they do not feel they belong at their school. This statistic has increased 4 percent since 2009.
Thirty-three percent of African-American high school students reported that they do not feel close to people at their schools. The report further stated that school engagement often led to better grades and a lower chance of dropping out.
Burcham was not new to mural-making. He had previously worked on two other murals with DAMA. He said the process was fun, and he was happy to be gaining art experience. An aspiring rapper, he hoped to design his own album covers one day.
He has enjoyed seeing the final product after working on each mural, and liked knowing that a lot of people will see his work. "It feels like I accomplished something," said Burcham.
Burcham also credited DAMA with helping him change his perspective on life. He claimed to have made some mistakes in the past, but now considered them learning experiences.
"[DAMA is] making me not want to do bad stuff anymore," he said, "It makes me feel like a better person, like I don't have to go down the wrong path."
DAMA Director Sharon Kilfoy received similar feedback from a student who participated in the program for two summers. The student had thanked Kilfoy for keeping her "safe and out of trouble." That student, now graduated, is one of two young adults on DAMA's board of directors.
"Our goal, really, is to eventually see young people who have come up through the ranks becoming lead artists in the program, taking over my job—being the director of the program, [and] having careers…in the arts," said Kilfoy.
But even for students who do not find their passion in the arts, Kilfoy wants to develop a "belief that they can make a difference in the world, and [help them] discover a path for how to do that."
On painting days, students are not forced to participate, but are continually encouraged to do so. "We start with 'No, I don't want to paint,'" said DAMA artist Emida Roller. However, she insisted that with patience the "results are always positive."
Before working with students, all six of DAMA's artists were provided with a "trauma-informed curriculum." The curriculum instructs artists on how to respond to comments about neglect or abuse, address negative behavior and discuss controversial topics. Artists are trained to utilize positive reinforcement, humor and a calm tone of voice to create an encouraging environment for young people.
Local teacher Melissa Frey praised DAMA artists for their ability to relate to students. She said the artists were "incredibly at ease and put the students at ease."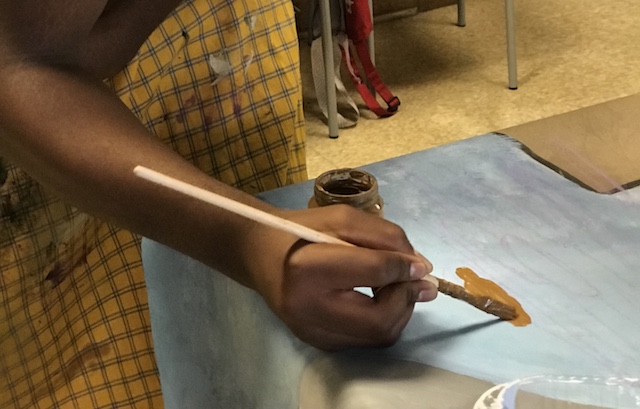 A student contributes to a mural for Madison's South Police Station at Hoyt School (Erin Green/Madison Commons).
DAMA artists came to the school equipped with all materials necessary. The students painted on "polytab," a non-woven fabric that can be applied to panels or directly to walls. The use of this fabric allows DAMA artists to bring mural projects to students, no matter where the eventual installation will be.
Because the projects occur in schools, they may act as an attendance incentive, according to Kilfoy.
"If you're there for the mural program, you're going to be there for math, [and] you're going to be there for the other subjects," said Kilfoy.
In the future, Kilfoy hopes to extend DAMA's reach to more communities within Dane County. Kilfoy said that DAMA is also working toward collecting data from school partners. She believes that students engaged in DAMA will show increased attendance, academic achievement and positive behavior.
One of her "greatest goals" is to do "more intense, [ongoing] work with youth." For students interested in art school, Kilfoy would like DAMA to support in applying and developing portfolios. In addition, she hopes to create more programs to involve youth in mural-making year round.
As a non-profit organization, funding continues to be a challenge. DAMA programming relies on public grants, donations and contributions from community partners.
Sankaran explained that DAMA does not only need art materials, but also the resources required to build quality relationships. Project costs range from $1,000 to $20,000, depending on the size of the mural and the number of youth involved.
Currently, DAMA's budget is less than $100,000, but Kilfoy hopes the program can increase its budget to $1 million in the future.
As DAMA continues to grow, self-esteem building will remain at the heart of the program's efforts.
For Kilfoy, much of DAMA's impact grows out of "that sense of accomplishment, that sense of ability that 'yes, I was able to do that,' and every time you walk by that mural you get that reminder that you're capable of doing something that…really contributed to [your] community."