Neighborhood conference stresses connection and community
Bringing voices to the table can create tangible change in neighborhoods.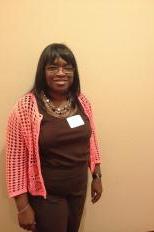 Arbor Hills Neighborhood President Shari Carter shared the community's story of building institutions at the 2014 Neighborhood Conference (Rebecca Radix/Madison Commons)
Community leaders, volunteers and various city employees gathered Saturday at Monona Terrace for the Mayor's Neighborhood Conference 2014: a day of gaining knowledge and skills, networking and strengthening the greater Madison community.
The conference was focused around the theme of "Strong Leaders Healthy Places," and the keynote address featured special guest Don Edwards, director of Justice and Sustainability Associates. In his keynote address, Edwards urged community members to build a beloved community, one centered on inclusivity and respect for individuals and their personal stories.
In one session, groups from the Arbor Hills and Leopold neighborhoods discussed their own successes.
Arbor Hills Neighborhood President Sheri Carter, a Madison-native and community activist for more than 20 years, joined with Pastors Peter Morris and Phil Haslanger and Neighborhood Police Officer Mike Richardson, to present a workshop on building stakeholder partnerships - something their neighborhoods have seen take root and flourish in the recent past.
"I think our biggest success is tangible things you can see," Carter said. "It would be Arbor Gate, it would be the Cannonball Bike Path, it would be the Open Schoolhouse and getting a neighborhood police officer."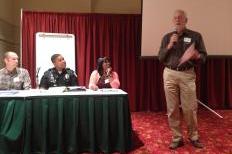 Representative from Arbor Hills including Phil Haslanger (standing) discussed the ways the neighborhood has created local partnerships at the 2014 Neighborhood Conference (Rebecca Radix/Madison Commons).
Presenters outlined community partner initiatives like a neighborhood bike ride and potluck, the startup of an essentials pantry by neighborhood churches (think toilet paper, toothbrushes, toothpaste, etc.) a community garden that's grown from around 20 plots to 56 in the last three years, and an Open Schoolhouse weekly event.
The Open Schoolhouse is hosted by Leopold Elementary School, which opens its doors every Tuesday night for families in the community to enjoy Zumba classes, open gym time, access to library materials, as well as enrichment opportunities like computer classes and opportunities for English language skills development.
"It is packed with folks," Carter said of the Open Schoolhouse. "Schools are natural centers and we need to do more with the schools. In fact we would have a community center in every neighborhood if the schools would join us and have an open night."
The Leopold Park Community Garden is another initiative these neighborhoods have seen flourish through partnership. The gardens were founded three years ago by Jennifer Bendorf, secretary for the Leopold Neighborhood Association, and they continue to play a role in building a stronger community between the Arbor Hills and Leopold neighborhoods.
"The garden is awesome, it's brought a bunch of people together that wouldn't normally be together. We have people at the lower end of the socioeconomic ladder, and then we have a couple of doctors from Arbor Hills, people who have homes but can't garden there because there's too many big trees. So we're bringing everybody together," Bendorf said.
For Carter, Don Edwards and the ideals of the Mayor's Neighborhood Conference creating cohesion is vital to a successful neighborhood. Reaching out in partnership, even accidental or unexpected, is what makes things happen at the end of the day.
"When you reach out across borders and streets, wonderful things happen," Carter said.