North side food pantries work to satisfy increasing demand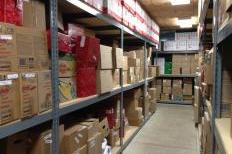 In the Bread of Life Food Pantry storage unit, cardboard boxes filled with dry goods pack the shelves. This abundance fails to reveal the difficulties some pantries have encountered meeting the increase need for donated food on the north side.
Recent food shortages have been "tremendous," said Pastor Gerry Kuhnke of St. Paul Lutheran Church and one of the driving forces behind its food pantry, Bread of Life.
Betsy Ezell, development director at The River Food Pantry, first noticed shortages in 2010, but in the last six months they have gotten worse. Items like cereal and peanut butter have been nearly "impossible" to obtain, Ezell said.
Dan Stein, President and CEO of Second Harvest Foodbank of Southern Wisconsin, recognizes the organization has been less successful obtaining certain items including fruit and meat this year, while they have had great success securing others like potatoes and onions.
"The drought this year really decimated the apple crop and the cherry crop, so we're not seeing donations in those products," Stein said.
Second Harvest distributes the food it receives to 300 partner agencies in 16 counties including Dane Country. It has distributed more food this year than in the past, Stein said.
Still, pantries on the north side like Bread of Life and The River must purchase food to fill the gap between accessible items and the amount required to supply their clients' needs.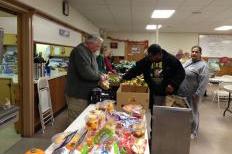 Bread of Life food pantry during distribution
The shortages have not been reflected in The River's food offerings, Ezell said. "As a food pantry we've been really fortunate to have the funds to purchase the wholesale food we need to meet the growing demand."
Bread of Life food pantry also purchases wholesale food to supplement supply. Kuhnke buys from the NBC15 and Second Harvest "Share Your Holiday's" food drive.
During the drive, contributors can donate funds or food. Local groups including schools can even host an NBC15 food collection of their own. The collections and food bought with donated funds is then listed on an online ordering system. Partner agencies that meet specific criteria, like Bread of Life, can purchase the meat, fruit and other items at low cost.
"You have to check [the site] literally ten to fifteen times a day, because when they put it on there, it flies right off," Kuhnke said.
Such is the demand for food in Madison.
Ezell and Kuhnke believe the economy is a contributing factor to the food shortages. Companies are watching their bottom line and aren't donating as frequently, Kuhnke said.
Ezell agrees. "The price of food has gone up, so I think people are donating less. Businesses are tightening their budgets and getting wiser about how much food they order, so there's no excess."
Pastor Dean Kirst of Lakeview Lutheran Church has not seen evidence of shortages at the Lakeview Food Pantry but has noted a growing demand for food. The Lakeview pantry serves between 20-27 households each Monday. Families who wish to visit the food pantry must put their name on a list.
"More often recently we have had to tell people that the list is full," Kirst said, "and we cannot serve additional people."
This article originally appeared in the Northside News.