Public art program planned for South Madison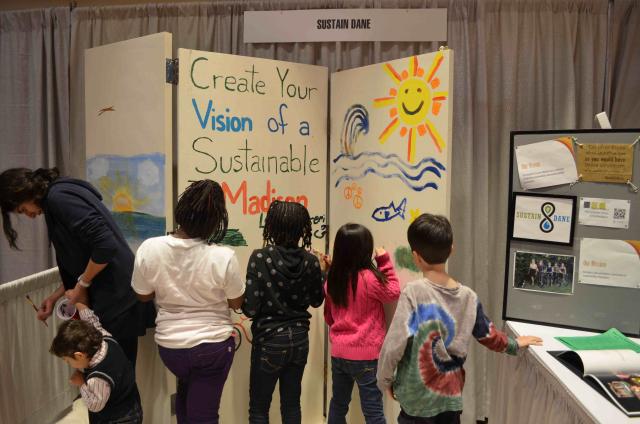 A Saturday meeting will seek community input for a public art program organized by Dane Arts Mural Arts and Sustain Dane (Courtesy photo).
South side residents will have the chance to collaboratively paint two murals this spring and summer as part of a neighborhood project hosted by Dane Arts Mural Arts in partnership with Sustain Dane's program smART (Sustainability + Madison + Art).
The murals will be painted on the walls of the Dane County Transportation Building and the Zion City International Church Ministries building. All residents are invited to the Zion City Community Outreach Center on April 11, from 4-7 pm, to share their ideas about positive aspects of their neighborhood.
"People will be sharing what they love and are proud of about their neighborhood right now, and then also their visions for a happy, healthy and vibrant neighborhood," said Lauren Beliont, the Director of Sustainable Neighborhood Initiatives at Sustain Dane. Beliont is tasked primarily with handling the community conversation surrounding the mural project.
The ideas formulated at the April 11 event will be jotted down with the help of neighborhood leaders, and then revisited a few weeks later when community members will be tasked with converting their ideas into a work of art.
That is where Sharon Kilfoy, director of DAMA and the Williamson Street Art Center, comes in. Kilfoy has made a career out of engaging community members—especially disadvantaged children—in mural projects. Some of Kilfoy's murals can be found at the UW Humanities Building, Centro Hispano as well as a variety of schools across Dane County, to name a few.
Kilfoy said her task in this project is to bring all the different participants, with their varying ideas and talents, together into one cohesive mural.
"I think of myself as being an orchestra conductor," Kilfoy said. "If all the members of the orchestra were able to play whatever they wanted, whenever they wanted to, nobody would really want to listen to the result."
"You need someone who has some knowledge and vision and training to be able to help all those voices be heard in a way that's harmonious," she said.
This will be the second project in which DAMA has partnered with smART to create a mural.
The two organizations worked together in the Darbo-Worthington neighborhood last year. Kilfoy said she was impressed with Sustain Dane's commitment to sustainability and equity.
"I met with them and they talked about having a real commitment to social justice, that unless everybody had a place at the table it's not a sustainable future," she said.
Because of the size of the transportation building, Kilfoy said she does not expect that mural to be completed until fall. The mural on the Zion City Building she hopes will be finished by the end of summer.
And for Kilfoy, the art comes second to the lives she touches along the way.
"To be able to go back and look at something ten years later and say 'oh I painted that, or I painted that leaf over there or I helped do that background, it sends them the message that they matter, that they matter enough to have a piece of public art," she said.