REAP's Farm to School Program provides fresh fruits and vegetables at snack time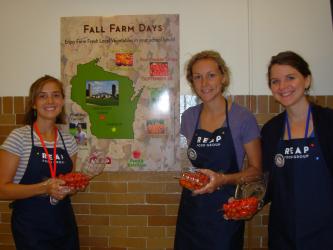 As Research, Education, Action, and Policy (REAP)'s Farm to School Program Manager, Sarah Elliott wants to provide better food to students and give farmers access to institutional markets.
These two goals motivate Elliott, REAP's four AmeriCorps members, and many passionate volunteers to improve and expand the farm to school initiative in Madison, despite many challenges.
REAP's Farm to School Program was originally known as Wisconsin Homegrown Lunch. The program was born out of a partnership with University of Wisconsin's Center for Integrated Agricultural Studies (CIAS) in 2002.
Operated by REAP since 2009, the program serves ten elementary schools, one middle school, and one high school in the Madison Metropolitan School District.
The elementary schools receiving a weekly fresh fruit or vegetable snack from REAP are among the most economically-challenged in Madison. With 50 to 82 percent of students receiving free or reduced lunch, these schools qualify for the United States Department of Agriculture (USDA) Fresh Fruit & Vegetable Grant.
A key component of the Farm to School Program is education. According to Tamara Baker, an AmeriCorps member with REAP, they provide teachers with a "Snack Bite" that includes information on the snack of the week and which farm it came from.
In addition, REAP's AmeriCorps members present a series of four lessons discussing topics such as the nutrient cycle and seasonal foods of Wisconsin. Sometimes they even bring local farmers to school for "Farmer in the Classroom" sessions.
While the snack program is quite successful, incorporating fresh produce from local farms into Madison Metropolitan School District lunches is more challenging.
Food service in the Madison Metropolitan School District is governed by efficiency, cost and labor constraints, and food safety. A large barrier to success is the lack of kitchen facilities within area schools.
Roughly 18,000 meals per day are prepared in an offsite facility and distributed to schools in hot and cold packs. The one or two food service employees working at each school do little, if any, food preparation beyond heating and serving the food.
Lack of funding for higher quality food in schools is another limiting factor. According to Elliott, Madison Metropolitan School District's meal program is funded by students who buy lunch, reimbursements under the National School Lunch and Breakfast programs for students who receive free or reduced lunches, and other government subsidies.
Cost for the Madison Metropolitan School elementary lunches cannot exceed 95 cents and after the necessary 22 cents for milk and 11 cents for packaging, only 62 cents are left to invest in food.
With the remaining 62 cents available per meal, the Madison Metropolitan School District chooses its weekly menu on a nutritional-based system. This approach outlines requirements for total calories and fat as well as key vitamins and minerals over an average over each school week. This system is focused on the nutritional content of school meals and serving a variety of different foods over the course of the week is less of a priority.
An additional constraint to incorporating fresh food in school lunches is that produce used in the Madison Metropolitan School District's meal program must come from farms certified under the USDA's Good Agricultural Practices (GAP) certification.
This certification is primarily concerned with food safety and traceability. It is often prohibitive for small, diversified farms since each crop must be certified separately. Elliott said that the small to mid-sized farmers she works with typically follow GAP standards, but instead choose to pursue organic certification which also has many food safety and traceability requirements.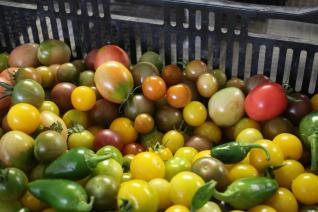 While GAP certification limits the ability to incorporate fresh, local produce into school meals, it does not extend to the USDA Fresh Fruit and Vegetable Program. Snacks served thr
ough the Farm to School program have more leeway. That is why the snack program is REAP's inroad Elliot said.
REAP takes full advantage of its inroad, procuring about 700 pounds of local produce per week to serve over 4,000 elementary students in the Madison Metropolitan School District.
"Processing is a huge amount of work," said Elliott. Even with the short Wisconsin growing season, REAP provides a snack for all but three to eight weeks of the school year.
While there are continual challenges to integrating local foods into the Madison Metropolitan School District's meal program, Elliott seems optimistic.
"So many teachers, parents, students, farmers and community members are enthusiastic and supportive of the work that REAP is doing to bring local foods into the schools," said Elliott. "
As we continue to work with the school district to overcome some of the challenges, I am very hopeful that we will be able to bring about systemic change in the school meal program here in Madison."