Sheboygan Ave. Community Garden faces uncertain future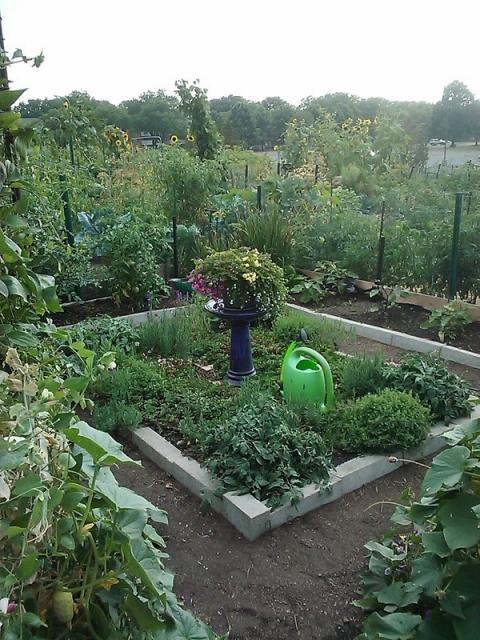 The Sheboygan Avenue Community Garden may be searching for a new home as the state redevelops the Department of Transportation site in Hill Farms (Courtesy Sheboygan Avenue Community Garden)
After 34 years, the Sheboygan Avenue Community Garden is in danger of being uprooted.
The Wisconsin Department of Administration has not indicated if the garden will be included in its redevelopment plan for the Hill Farms Property on Madison's west side.
The 21-acre Hill Farms Property includes the existing state transportation building, surface parking and vacant land. Taking up less than one acre of the property is the Sheboygan Avenue Community Garden.
"One-twentieth of the space for green space that ought to be there somewhere anyways is not too much to ask," said Jack Kloppenburg, who has been gardening there for 28 years. He hopes the garden will be incorporated into redevelopment plans.
Sheboygan Avenue Garden coordinator Cindy Statz said if the state doesn't allow the garden to remain on site, community stakeholders have come forward to discuss purchasing or leasing space.
Statz said the Department of Administration has been unresponsive to her request for a meeting to discuss these two possibilities.
She added, however, that garden representatives' efforts have not been in vain. The DOA has acknowledged the garden's presence and mentioned either preserving or relocating it.
"We think those approvals will happen somewhere down the road, but there's really no guarantee that they will be accommodating us," Statz said.
The DOA redevelopment plan includes purchasing the existing DOT building and any surplus land on the Hill Farms Property to build a 600,000-square foot state office building and a 2,500-stall parking structure.
This new building will accommodate several state agencies including the Department of Transportation and the Department of Employee Trust Funds, which the state said has outgrown its current office on Badger Road. The state announced the development groups who would administer the site on Monday.
Kloppenburg emphasized the main objective is for garden representatives to be included at the table of discussion with the Hill Farms Property developer.
"We are willing to work a community garden into whatever development is coming forward," Kloppenburg said.
"The garden doesn't have to be in the exact same place it is now. What's important as a matter of public policy is to establish the principle that a green space should be involved in Madison developments," he said.
Statz said that Madison is losing opportunities with increasing density and frequent development projects.
"All of that green space is slowly fading away with each high rise. The people that are out in and around those places need to be able to have a local food source," Statz said.
The Sheboygan Avenue garden ensures pesticide-free crops for 113 families in the Madison community from more than 10 ethnic groups.
These "social diversity hotspots" are a mix of people hard to find elsewhere in Madison, Kloppenburg said.
"People of all ethnicities, all economic backgrounds, come together organically to work for their principle objective of gardening together," Kloppenburg said. "At a time when we are talking about equality and working together, a community garden is a place where this is happening," he said.
The Sheboygan Avenue garden aims to serve low-income families, which account for 40 percent of its households.
"For many people it's their food source," Statz said. "When the recession started, we had people come that had no idea how to garden. They were just interested in finding ways to support their family."
The garden is also a place for elderly community members to stay involved and take pride in their work, Statz said.
"It's clear we are using up the natural world right now in ways that are not sustainable," Kloppenburg said. "Green space, especially productive green space, is a wonderful thing to have for the pleasure of the people who live in the area, for our aesthetic pleasure and for our commitment to live more sustainably on this planet."
The Sheboygan Ave. Community Garden will hold its next board meeting on Feb. 12 at 6:30 p.m. to discuss plans for the future. The meeting will be held at Covenant Presbyterian Church (326 South Segoe Road).