Shorewood International Food Fair offered the world on a plate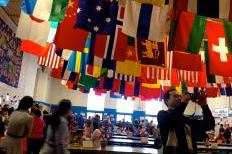 From Jordan to Germany, the Shorewood Elementary School International Food Fair presented the food and culture from more than 30 countries on Saturday, March 16. Parents and teachers organized the fair as the final day in a week-long celebration of their school's diversity, and more than 700 people attended.
One of the fair's coordinators, parent Lucy Richards, said the fair has been going for more than 20 years and it filled her with emotion to see the families proudly sharing their cultures and learning more about one another.
As she looked at the gymnasium, transformed by colorful national flags strung across the entire ceiling, the vibrancy of the community overwhelmed her.
"This is magical," she said.
Juanfang Zhang, whose son is in 4K at Shorewood Elementary helped make and serve Chinese food. Many people came to her table for their favorites, egg rolls and dumplings, but she was excited to share new dishes with them, like the traditional sweet Chinese breakfast bread.
At the Canadian table, Janice Ferguson served a seafood chowder typical of Nova Scotia as well as an expansive platter of Atlantic salmon, a Québécoise goat cheese tart, and Nanaimo bars to represent Vancouver.
The Arabic Bilingual Resource Specialist for the district, Ruba Al-Saman, wore a Jordanian hand-embroidered floor-length dress as she helped serve hummus and thyme pies that she had made. Al-Saman coordinated parents from several other middle eastern countries, including Oman, Israel, and Egypt, to contribute food as well.
Upon leaving the roaring dining area, fair attendees could also wander through the school's Global Village displays. For the village, each classroom was transformed to share the culture of a different country. Taiwanese volunteers treated visitors to a puppet show. In the Indian room, children colored rangoli patterns, the symmetrical designs created on the ground outside Indian homes.
After volunteering to scoop ice cream at the food fair, two former Shorewood Elementary School students, now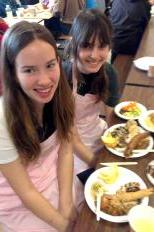 Anna Brophy, left, and Evelyn Marchbanks juniors at West High School, sat with their plates full of international goodies.
"This is probably my favorite meal of the year," said 17-year-old Anna Brophy. She and her classmate Evelyn Marchbanks both had foods on their plate they had never tried before, including Japanese tea tarts.
PTO Co-president Randy Kemple said having his children experience the diversity of Shorewood Elementary is part of what drew him to the neighborhood. Students of UW-Madison scholars and medical professionals, many hailing from international homes, populate the school's community which includes the university's Eagle Heights neighborhood.
"They're exposed to such diversity at such a young age, when they think nothing of it," he said.
Liz McLaughlin, parent of a kindergartener and a third-grader, agreed that the cultural exposure for her kids was a huge part of why her family moved to Shorewood Hills. She values that her children have friends hailing from all over the globe, everywhere from South Korea to Eritrea.
Parents at Shorewood Elementary School, like McLaughlin, love to participate in their kids' education according to Kemple. As PTO co-president, a lot of what Kemple does is coordinate volunteers, a job, he said, Shorewood parents make easy.
"Parents [volunteer] with enthusiasm and pride in the school and in their students," Kemple said. "It really makes for a great community."
The strength of community expression at the international food fair is what made parent and fair coordinator Richards tear up.
Standing in her bold Union Jack apron, a tribute to her British roots, Richards watched parents proudly serve their country's cuisine as it was recreated in their Wisconsin kitchens.
"It's the world on a plate," she said.