Simpson Street Free Press Awarded Two Year Grant
Even in the middle of the summer, the Simpson Street Free Press South Towne newsroom is busy with students learning and writing. The newsroom is filled with resources for students—from a library full of sources , to the volunteers who help students revise their articles.
The newsroom exemplifies SSFP's mission to actively help students learn in out-of-school time in a high-impact, effective fashion.
SSFP was recently awarded a two-year $50,000 grant from the National Afterschool Alliance and New York Life Foundation. ASSFP was one of 18 organizations selected from over 430 applicants, and were chosen based on evaluations from experts and researchers in the field of out-of-school time.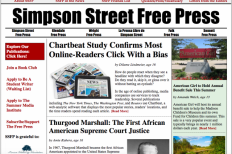 With the grant, SSFP plans to focus on a group of 25 middle school students closely, guiding them in the critical transition from middle school to high school and tracking their progress over six semesters.
"[Focusing on those transition years] is important because you can lose them in those years," SSFP said SSFP editor Taylor Kilgore. "In elementary school, a student can be really into school and learning, but then all the sudden it's not cool anymore."
Tracking students' academic progress s is a major focus of the grant and SSFP. Oftentimes, standards used to evaluate a student's academic achievement do not show the whole picture. One common example of this is graduation rates, said Kilgore.
While a student may graduate, it does not necessarily mean he or she is ready for the real world. That is why it is important to look at the quality of work the student is producing, which is better represented by measures like student attendance and grades.
"We have a 4.0 wall; we have specific measures we want our students to reach," SSFP editor McKenna Kohlenberg said. "These kids know it's not just their parents that are going to care about their grades and their attendance. They know when they walk in here that we will be very on top of it if we see things slipping."
One important aspect of SSFP is that the organization does not attempt to replicate the school day. Rather, the out-of-school time is meant to support classroom learning, said Kilgore.
This structure enables SSFP students to learn skills that may be harder to learn and practice in a traditional classroom.
"We like to give opportunities to young people—the internship programs, not being scared to network and shake people's hands, give them a business card, make speeches, learn those really key skills that are really hard to teach," said Kilgore.
SSFP works with media outlets to provide summer internships for the students, and certain networking opportunities and events that expose students to real-world skills, said Kohlenberg.
Kadjata Bah is an O'Keefe middle school SSFP student that has a summer internship working with Wisconsin Land and Water. Bah has been to a handful of events as a representative for SSFP, such as an NAACP awards banquet and the Women in Focus annual ball.
Bah, although she describes herself as more shy, describes these events as opportunities to develop networking skills.
"[Going to these events] really brought out a part of myself that I didn't really know I had. Really in general, I'm not the kind of person that would go up to people and talk to them," Bah said. "I kind of surprise myself every time I go up to someone and shake their hand and tell them about myself because it's just like wow- I didn't know I could do that."
Instilling academic confidence in students is a huge focus of SSFP, said Kilgore. This is especially true during the middle school years when kids can lose focus on school.
"Academic confidence is definitely something that was instilled in me when I was a student here. I didn't take school very seriously in middle school, but eventually I saw how smart I really was and I had potential to do great things," said Kilgore. "It's really great to use journalism as a portal to teach these skills."