Slideshow: Twelve course tour of the world raises funds for community kitchens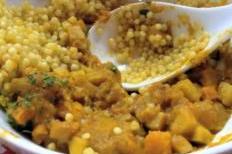 Eat for Equity-Madison took guests on a twelve-course culinary escapade Jan. 26 at the FEED the World fundraising dinner. Guests from within and beyond Madison traveled to the home of Rebecca and Marti Ryan to enjoy the feast, representative of twelve global cultures, and to support the Northside Planning Council's most recent project: FEED Kitchens.
The project will provide food businesses in the Madison community with five new professional kitchens, which will be available for rent on an hourly basis. Speakers of the night included: Ellen Barnard, FEED Kitchens' project chair; Stephanie Ricketts, Eat for Equity-Madison founder; and Rebecca Ryan, host of the event.
Under the spell of fine cuisine and punch, conversation flowed easily throughout the evening. Ending on a sweet note, Eat for Equity saved baklava for the final course, and attendees departed the Ryan household in high spirits. Eat for Equity raised about $1,600 for FEED Kitchens.