SloPig dinner showcased heritage pork as food and drink ingredient
Approaching dinner time on March 10, splashes of rain wet the Capitol Square. While it may have seemed as if nightlife on that Sunday was unlikely, the Madison Club located on East Wilson Street was generating more energy than usual.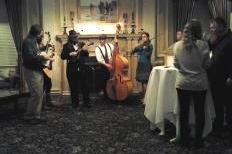 Under the direction of Chef and SloPig Founder Daniel Fox, SloPig celebrated their passion for heritage pigs with a dinner event at Madison Club to raise awareness of pure breeds of hogs.
SloPig, an initiative to support a lengthier process for raising livestock than current mainstream methods, was initiated by Fox to promote heritage pigs and to share ways to properly and fully utilize sustainably raised pigs.
Fox said that many heritage pigs are fat-laden, meaning they carry a thick fat on their body of which most chefs don't make use.
"So we came up with this event as a tool to market the animals [heritage pigs]," said Fox. "It's more or less like a cocktail party but with an undertone of education."
The SloPig dinner was an extension of Fox's and his partner Chad Vogel's efforts to set grounds of raising awareness for their upcoming restaurant downtown. Fox and Vogel's restaurant is set to open in mid-June and will be called Heritage Tavern. It is located at 131 E. Mifflin Street. Fox said they have executed a couple pop-up marketing events, such as building pig sculptures at the Maduro Cigar Bar.
"The pop-ups went extremely well so we took that idea and brainstormed," said Fox.
The general admission fee was $100, limited to 250 general admission attendees, and $150 for VIP admission. In total, more than 400 people attended.
The event was on four levels of the Madison Club building, each level with different vendors. Three levels were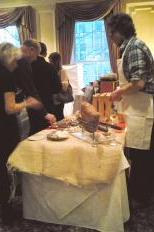 opened to the general public and the lowest was for VIP guests only. Centering on the idea of showing the wide usage of sustainably raised pigs, various participating vendors from Madison and elsewhere joined to provided heritage pig-incorporated food samples as well as freshly mixed cocktail drinks. In addition, attendees could view a whole hog butchery demonstration.
Tory Miller, the executive chef and co-proprietor at L'Etoile, said that because his locally-sourced restaurant has been using heritage pigs ever since it opened, it was natural for him to join the event. He presented food samples ranging from Chicago-style hotdogs to kimchi lettuce wraps during the SloPig event.
Other than food vendors, liquor artisans were also present to share ways of using pork in drinks. Nicholas Kosevich, one of the proprietors of Milwaukee-based Bittercube Bitters, was showcasing how to make bacon cherry liquor, featuring drink like a bacon-Manhattan and bacon-washed bourbon.
"This is our third SloPig event, and we really enjoy this, because we are lovers of bacon and heritage hogs and the celebration of all things good food," said Kosevich. "Also, it's good to see all these people come out and be excited to taste what the chefs are putting together."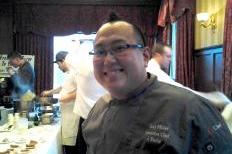 Chef Tory MillerWith more than 100 tasting options, both foods and drinks, the event created a pleasurable experience for many of those who were busily walking around.
Fox, who personally raises nearly 150 heritage pigs, envisions a future where heritage pigs are more well-known to the general public.
"We will continue to do SloPig events, and eventually I would like to see SloPig to become an event of the Midwest where people could travel in. We will also hold seminars and [implement] different layers of education to help engage people to build up the heritage movement," said Fox.