Slow Food Madison takes on stronger social justice focus
The Mexican-themed meal included a layered corn tortilla dish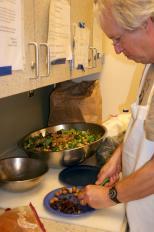 Slow Food Madison member David Griffeath prepares a salad with shredded chicken and ancho chile sauce, a side of diced zucchini, corn, and roasted red peppers, along with a spinach salad dressed with garlic-stuffed olives and chickpeas. Many Goodman Community Center diners went back for a second serving of the meal prepared by Slow Food Madison, a meal that one diner called his "absolute favorite community food program."
Every Wednesday night for the past year, Slow Food Madison has cooked a meal at Goodman Community Center using ingredients almost exclusively sourced from the center's food pantry. The meal is free to anyone who stops by and usually a couple dozen people take advantage of opportunity.
"You can eat really well from very simple food," said Matt Feifarek, a member of the Slow Food Madison leadership team. Feifarek hopes that the meals spark new dinner ideas for people who frequent the pantry.
One of the 28 Madisonians eating last Wednesday's Mexican-themed meal was retiree Larry Orr, who said he appreciates the creativity and enthusiasm Slow Food Madison brings to the weekly dinner.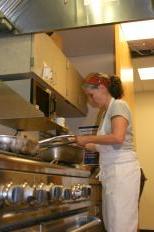 Private chef and Slow Food member Naomi Kroenke prepares a meal at Goodman Community Center"We're really lucky to have this in Madison," Orr said. Orr has done his own organic vegetable gardening since the '70s and appreciates a freshly cooked, healthy meal. With no pension and only social security for income, he can't always purchase the type of food he prefers.
The Goodman Community Center pantry offers options that Orr and other Wednesday night diners said they appreciate. When visiting the pantry, people fill out a form and can indicate preferences like gluten-free, organic, vegetarian, and low sodium. The Slow Food Wednesday dinner usually offers a vegetarian option.
Feifarek said that the Goodman dinner is one of several projects Slow Food Madison took on beginning last year after the organization decided to incorporate a more prominent social justice focus into their programming. With no office and no budget, Feifarek said Slow Food Madison is finding ways to use volunteer time to help in the space where food and social issues intersect.
Another of their projects is visiting small local food businesses owned by new immigrants. Slow Food people are excited to learn about ethnic cuisine, Feifarek said, and the business owners see that the Madison community is interested in what they're doing.
"The only way to get started on working on these [social justice] challenges is to make friends," Feifarek said.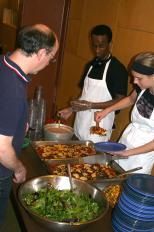 Tenth grader Ali Hassa (left) and Manona Thompson serve a Slow Food meal at Goodman
The leader of last Wednesday's meal preparation was private chef and Slow Food Madison member Naomi Kroencke. Four volunteers assisted Kroenke, two other Slow Food Madison members and two youth volunteers.
Feifarek said that anyone, member or non-member, is welcome to participate and volunteer with any of the Slow Food Madison programs.
Like the ethnic food store visits, many Slow Food Madison events require cooking, they focus on learning about the type of food culture that fits with the Slow Food mission of linking "the pleasure of food with a commitment to community and the environment." Other outings in the past year included visits to small farm producers and a tour of an artisan cast iron cookware studio. See below for a slideshow of their visit to FeLion Studios in February, owned by Alisa Toninato, designer of the Wisco Skillet.
In order to learn more about opportunities provided by Slow Food Madison, visit the organization's website.
In order to view captions with the photos, enlarge the slideshow to full screen and choose "Show Info" in the top right corner.