SSFP: Three Simpson Street Reporters Receive Outstanding Young Person Awards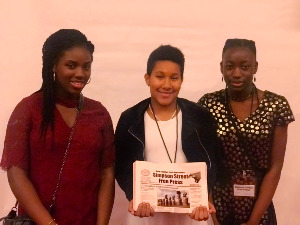 From left to right: Josepha Da Costa, Odessa Schwei, Yani Thoronka
This story originally appeared in the Simpson Street Free Press. The story was written by Jacqueline Zuniga Paiz, an Assistant Editor at SSFP.
Every year, over 800 Wisconsin parents, youth, teachers, school faculty, and community members come together to attend Urban League's Martin Luther King, Jr. Youth Recognition Breakfast.
Held at Edgewood High School this year, the annual event celebrates local students' academic achievement, extracurricular participation, and commitment to community service. About 200 middle and high school students of color from Dane County receive Outstanding Young Person awards at the event, which is one of the state's biggest youth and family-focused celebrations of Martin Luther King Jr. Day.
Simpson Street staff and students are proud to announce that three of our young reporters were among those who received awards at this year's community celebration. from St. James Catholic School and Odessa Schwei and Yani Thoronka from O'Keefe Middle School are accomplished young women, scholars, and role models in Simpson Street Free Press newsrooms. Seventh grade students, they exemplify the spirit of Dr. King by serving as honorable, active citizens and creating a positive impact on their communities.
Jospeha, Odessa, and Yani are a joy to work with and learn from both in and outside of the newsroom. For them, this award is only the beginning. Although these students are young, their passion for service and success will help them grow stronger, persevere in the face of challenges, and fulfill their own dreams—just like Dr. King. From all of us in the Free Press family, congratulations Jospeha, Odessa, and Yani! We can't wait to see what you accomplish next.