STAR Credit Union helps kids learn how to save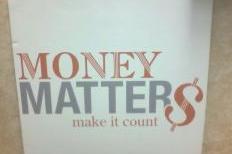 STAR Credit Union teaches kids valuable lessons in financial literacy (Franco Latona/Madison Commons)Kelsey Johnson earns money by babysitting her neighbor's two children; it is her main source of income. She also earns a little money at home by cleaning her room, "which I hate," she said. Johnson just entered the sixth grade, and has had a savings account for four years.
She banks through STAR (Save to Achieve Results) Credit Union, the only kids-chartered credit union in the world. Located inside the Boys and Girls Club on Madison's south side, Johnson is one of 586 members with a savings account. Any past or present member of the Boys and Girls Club under the age of 18 is eligible, and it costs just 25 cents to open an account (which is also the minimum balance). Because the accounts are exclusively savings, kids are not issued a debit card, and they are never allowed to overdraft.
STAR CU is financed entirely by Summit Credit Union, whose current CEO, Kim Sponem, founded the kids-chartered credit union along with Andy Faust in 2005. Sponem said she first attempted to implement a financial literacy program for adults in 1999, but found it difficult to gather and maintain interest. So she scrapped that project, but continued to think about a program that could successfully operate in a low-income neighborhood.
"Then it kind of came to me," Sponem said. "I thought, what if we start with the kids? What if we create a way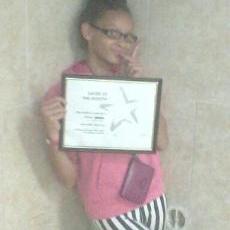 Kelsey Johnson shows off her Saver of the Month certificate, awarded by STAR Credit Union the only youth-chartered credit union in the world (Franco Latona/Madison Commons) for kids to get hands-on experience with a financial institution?"
So she took her idea to Juan Jose Lopez, Executive Director of the Boys and Girls club at the time, and formed a committee to oversee the implementation of STAR CU.
Sponem said she likes the idea of educating kids, many of whom live in low-income neighborhoods, on financial matters because they are much less likely than adults to have serious money problems.
"One of the things that became really clear to me during my time with financial institutions is that it is a lot harder to fix financial problems than to avoid them in the first place," Sponem said.
But she did not want the kids-chartered credit union to merely be a place for kids to deposit money; she wanted to educate them in financial matters as well. Consequently, STAR offers a number of financial literacy classes to its members that range in complexity.
Kristel Renn, who is STAR CU's current CEO, and overseas much of its daily operations, said that the kids' chartered credit union is currently conducting a program, offered to teenagers, that is similar to the television show "Shark Tank." Teens are tasked with creating a business plan that will be presented to a board. Just like the TV show, the young entrepreneurs can be rewarded money to put towards operating their businesses. The reward money came as a grant from Biz Kid$, according to Renn.
And while a program like this is advanced, Renn said that most classes cover more basic financial responsibility concepts; identifying the difference between wants versus needs, for example, or understanding the importance of a rainy-day fund.
Renn said she is glad that STAR CU members are gaining experience with a traditional financial institution because they are less likely to do so on their own time. She said that many kids in low-income neighborhoods do not take trips to the bank with their parents like many of their middle and upper-class peers.
"I remember when I was little going with my parents to the bank and watching them do deposits," Renn said. "A lot of these kids have never experienced that."
Instead, she said that many people in low-income neighborhoods rely on check-cashing stores to deal with financial problems, many of which charge high interest rates on short-term loans.
"We'd love to see all the check-cashing stores go out of business," Renn said.
Renn also emphasized the benefit of using credit unions, which are non-profit, instead of for-profit banks.
"You can feel more confident that a credit-union representative has your best interests at heart because they're not gaining anything by selling you their products and services," Renn said. "They don't want to give you a loan if you don't need it just to get the extra money; they want to do what's best for you."
Additionally, Renn said that when kids open an account, they make out specific savings goals. To encourage kids to obtain these goals, STAR CU offers a variety of incentives such as its "saver of the month" program. The member who saves the most money in a one-month period is rewarded five dollars into her account.
Johnson has been the "saver of the month" two times this year; and when asked about her good saving's record, she said "Toys break, candy gets eaten, and all that stuff is worthless."
In fact, Johnson exceeded STAR CU's maximum savings balance of $500, so she went to Summit CU to open an account there.
And while Johnson may be an exceptional saver, she is not the only one who is financially competent. Jadam Allen, who said he would like to work as a doctor or a lawyer someday, opened his account in third grade; he is now a sixth grader. Allen recently had a job testing children's financial literacy games created by Summit CU's CUNA branch. He said he made a few candy bar purchases with his earnings, but made another purchase he was more proud of, treating his two sisters, his mother and her boyfriend to breakfast at the Blue Plate Dinner.
Allen ordered the pancakes, "which was not a mistake," he said.
Renn said she is pleased with the impact STAR CU is having on its members, but would like to see financial literacy be taught more generally in schools. Occasionally, she speaks with high-school students who are part of the AVID-TOPS program—also run by the Boys and Girls Club—about personal finance.
"My first graders could totally outsmart the high-school students on money matters," Renn said. "It's great that our program is working, but it shouldn't be like that. They should also receive that education."
Renn said she would like to see the kids who bank at STAR CU avoid financial hardships as adults, particularly the need to seek short-term loans. But if the need does arrive, Renn hopes that their first step is to seek a financial institution like a credit union instead of check-cashing stores.