The Bus Stops Here: Vote for Public Transit in Dane County's 2018 Board Race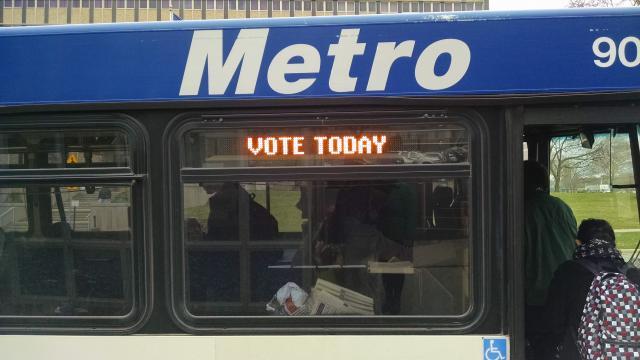 Bus riders and friends have good reason to vote their interest in public transit in the upcoming Spring 2018 County Board elections. Public transit is a basic pocketbook issue with environmental and social significance. After the cost of housing itself, transportation can be an average household's second largest expense. That is on average. Madison Area Bus Advocates does not endorse political candidates but can provide transit-related information with which to evaluate political candidates, and it can encourage people to vote.
Being able to use good public transit, thereby enabling households to live well while owning fewer (or no) motor vehicles should be a top feature by which one evaluates a candidate's fitness to represent them on the county board. After all, the board approved a 2018 operating budget of more than $530 million and a capital budget of almost $115 million. Although some of these funds go toward transportation projects, none of it is used for public transportation or transit. That can and should change.
All 37 (yes, 37) Dane County Board seats are up for election this Spring. Primaries for three of them on February 20 will winnow the number of candidates for it down to two in Districts 6, 11 and 15. The general election will be April 3. Most, 33 seats, are uncontested. And of those, most (31 seats) are being sought by incumbents.
Transit is not a major issue for any of the candidates for an uncontested seat although some would support a pro-transit initiative if one were led by someone else. For instance, while some consider affordable housing a paramount issue, they may not recognize the need to link affordable housing to public transportation until someone else points out the connection.
The only uncontested seats sought by non-incumbents are those for District 3 (sought by Analiese Eicher) and District 20 (sought by Julie Schwellenbach). District 3 includes the heart of Sun Prairie. The incumbent for this district, who has fought cancer, is endorsing Eicher to replace him. District 20 is east of District 3 and includes the villages of Marshall and Windsow, and the towns of Medina, Bristol, York and Sun Prairie. The incumbent there is stepping down after serving on the Board for 20 years.
While much smaller, the City of Sun Prairie had established a shared-ride taxi transit service that currently links with Madison Metro Transit at East Towne Mall. Sun Prairie recognizes the need to further upgrade its transit service, and Eicher serves on Sun Prairie's Plan Commission. However, she does not appear to prioritize public transit per se.
Incumbents are stepping down in two other districts, which has led to a contest between two newcomers. District 24's current supervisor Robin Schmidt is stepping down after a decade of having chaired the county's Public Works and Transportation Committee, and forming a short-lived Transit Subcommittee of that body in 2015.
Based on numerous "listening sessions" held around the Dane County in the summer of 2015, the subcommittee managed to get an amendment passed in the county's 2016 capital budget. That amendment allotted a modest $1.5 million for the general purpose of furthering public transit. The allotment was never spent however, and there seems no firm explanation for the inaction.
Given Schmidt's legacy and the fact that the city of Monona has maintained its own limited transit system for quite some time, it should come as no surprise that both people vying for the seat in April, Tanya Buckingham and Anna Gouker, consider public transportation an important element of their agenda.
A second district for which an incumbent's replacement is contested is Verona's District 32. Long-time incumbent Mike Willett decided to step down after learning that his seat would be challenged by Jason Knoll. That did not result in Knoll himself going unchallenged however. Jacob Luginbuhl is also vying for the seat. Although the two candidates appear to have very different views on many issues, neither appears to highlight issues related to public transportation. Madison's Metro Transit runs a few buses out to Verona, but this service is paid for by Epic, not the City of Verona.
The February 20 Primary
A county district that will have a primary is in District 15 directly north of District 32. Steven Peters and Brent Renteria, a former member of the Town of Middleton's Board, are vying for the seat.
According to a January 28, 2018 Wisconsin State Journal article, one of Peters priorities would be accessible and modern roads and other transportation options to link it all together. Whether those options would include sidewalks, bicycle lanes and/or public transportation is unspecified. Renteria does not mention transportation of any kind as a priority.
The incumbent of District 11, Al Matano, is being challenged on February 20 for what would be his 10th 2-year term on the board by neighbors Nancy Rogue and Kelly Danner. Seeing the links between transportation, the environment and social equity, Matano considers public transit a priority: Transit has a significant impact on equity and our environment. This should be no surprise as he has been a County Executive appointee to the region's Transportation Planning Policy Board and was subsequently elected to head it. Other District 11 candidates might support a transit-related initiative introduced by someone else, but do not prioritize public transportation.
District 6's longtime incumbent John Hendrick is also stepping down. Four newcomer candidates will face off in the February 20 primary: Yogesh Chawla, Britt Cudaback, Heather Driscoll and Pam Porter. Cudaback considers investing in public transit a priority. The other candidates speak generally about investing in people-oriented services and would probably support a transit-related initiative, but they do not explicitly mention public transportation.
Happy voting!