Westmorland writes its own history
By Na Chen | Thu, 12/04/2014 - 12:43pm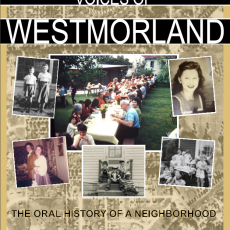 Westmorland Neighborhood on the Near West Side has long been known for its splendid Fourth of July fireworks and its distinctive architecture. Now it is adding a book-publishing badge to its community traditions.
It was a season of harvest. The neighborhood with rich histories in people, places and events reaped the fruits of their labor after three years of hard work: their second neighborhood history book "Voices of Westmorland: The Oral History of a Neighborhood."
On a crisp fall October day, many long-time Westmorlanders – whether they grew up in Westmorland or moved to the neighborhood later in their lives – gathered at Sequoya Library to celebrate the release of the book. Outside the library, the world was colored with hues of red, orange, gold and brown; inside, the grey-haired were chatting, laughing and warmly greeting each other, ready to reveal a second tribute to their community.
But let's reminisce a little bit: it was in May of 2011, just as beautiful as in spring days when flowers were blooming everywhere as it is in fall days, when the Westmorland History Committee released its first first history book: "Westmorland: A Great Place to Live, the History of a Neighborhood" in the same library.
After the launch of the book, Tom Martinelli, chairman of the history committee, met Sarah White, the editor of the book project, and expressed his interest in helping if she ever had a large book project in the future. Three months later, he got a call from White that she had decided to implement her long-planned oral history project with Westmorland.
"I was still catching my breath from the first book; she's already ready for another book," Martinelli said.
The idea of a local oral history book had been in the making even before White took over the job of writing Westmorland's first history book, a more general history book than lively individuals' stories. A native Madisonian, whose specialties are oral history and family history writing, White has devoted her life in collecting and documenting stories of Badgers.
The seed was planted when she saw an oral history book titled "The Voices of British Columbia" on a conference of the Association of Personal Historians in Victoria, British Columbia in 2010.
"It really leaped out at you and said 'you must do this,'" White said.
Apparently, the collaboration with Westmorlanders was a good experience. Not waiting for too long, she reached out to Martinelli. For her, oral history preserves people's voices and memories. As a venerable neighborhood attaching much importance to history preservation, Westmorland clicks with White immediately.
However, writing a book is a major task that requires teamwork. To write the "Voices of Westmorland," it involved setting up schedules, training interviewers, collecting stories, and eventually, writing.
"You really can't do a project without a team and that's what I found so amazing about Westmorland," White said. "I've never met a group of people as enthusiastic as Westmorland residents, which is why I was eager to do this project."
The wider community also pitched in. The county government funded a large part of the project. UW-Madison provided interviewer training sessions. People from different organizations volunteered to walk around the neighborhood and collect stories, and donations flowed in from every sector of the society. White saw this as a sign of the city's improved capacity of capturing histories.
After years of preparation, the long-awaited book finally came out this fall.
Memories of generations were distilled into a book with 19 chapters and 26 stories. The book is roughly organized in a chronological order but fine-tuned in some chapters to work in concert with story themes.
The cover design inherits the same theme of the first book: a collage of pictures of residents and the neighborhood stands out against a background of an ancient brownish Westmorland neighborhood map. Together with the first history book,
"Voices of Westmorland" is available for purchase at the Sequoya Library and the Village Bar in the neighborhood. The cost of each book is $10.
Westmorland may need to take a longer break this time after releases of two books in a row. But as the winter has swept through Madison and the holiday season is approaching, Westmorlanders now can gather around the fireplace, reminisce about history and enjoy the book together.