Wisconsin flute community to converge in Madison this weekend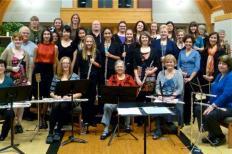 Madison Flute Club, 2012This weekend young flute players will gather in Madison from around the state and face off, performing for cash prizes at the tenth annual Wisconsin Flute Festival: Flutes in Dairyland. But the day's festivities revolve more around community than competition, said Kim Dorr, member of the festival's planning committee.
"I never really get a vibe that there's a lot of competition at the festival," said Dorr. "It's mostly just a lot of people hugging and really happy to see each other."
The festival will take place Saturday, April 6 at the UW-Madison Pyle Center and includes several performances as well as vendor sales and sessions for musicians. The event celebrates the music of the flute and brings together players, teachers, and fans of the instrument from around Madison and Wisconsin.
"We advertise the festival as a place for flute players and flute lovers, and we actually do get a lot of non-players," said Dorr.
The Madison Flute Club, which includes a flute choir that performs around town throughout the year, coordinated the first festival a decade ago.
"It's not in Madison every single year anymore," said Dorr. "It actually moves throughout the state, which was sort of our grand vision in trying to build a stronger Wisconsin flute network."
They're still working to strengthen that flute network, especially considering recent turnover of flute instructors around the state.
"We have a lot of new, young flute teachers who are really talented and have a lot to share, but they don't necessarily know each other and have that … idea of a network," said Dorr. "We've provided an outlet where people can get together and spend time with the people they do know and get to know the ones that they don't."
The day's festivities extend from 8 a.m. to 5 p.m. with music vendors displaying their wares and sessions on topics ranging from hand health to rhythm. Performances pepper the schedule, including those by the Arbor Trio and members of the UW-Madison flute studio. The Fox Valley Flute Choir will play music by Wisconsin composers in line with the theme of the event, Flutes in Dairyland.
At 5:30, featured flutist John Thorne, new flute professor at Northwestern University, will perform a concert in Mills Hall on the UW-Madison campus.
Dorr said she feels inspired by the musical performances and also by the people.
"The people … are really fantastic. They're all there, because they have a shared enjoyment of the flute," said Dorr. "You hear so many new ideas, really inspiring performances."