Wisconsin Made Gift Ideas for the Holidays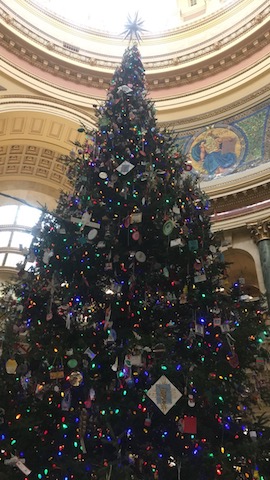 The Wisconsin State Christmas Tree in the State Capital (Lauren Faust/Madison Commons)
Still looking for the right gift for your loved ones? Traveling over the holidays? Possibly leaving Wisconsin? Look no further. Here are ten amazing gifts ideas made in Wisconsin.
Gift Basket from Fromagination
Giving the gift of fine Wisconsin cheese will endear you to even the nastiest in-laws. Fromagination has an assortment of cheese gift baskets that includes artisan cheeses, crackers, jams and more.
There might not be much that is more Wisconsin than it's beer. You can choose among 100s of Wisconsin brewers. The staff at Madison Commons prefers the always crisp beer from New Glarus Brewery. New Glarus Brewery also sells assortments of cheeses, cutting boards, glassware and apparel.
Grab a gift from Willy Street Co-op, who provides gift options for all budgets. They have gifts under $10, $20, $30 or more. Options include Indigo Wild Mini Soap Bars, Evolution Salt Lamps, Orchard Street Press Flour Sack Towels, or gift baskets and cutting boards all made from Wisconsin craftspersons.
Cider from Colony Nectar Company
A relatively new company, Colony Nectar Company crafts alcoholic beverages from honey in Madison. You can buy their products at multiple locations in Dane County such as Longtable Beer Café, Hy-Vee or Oliver's Public House.
Choose from an array of meats, pretzels, cheeses and other tasty treats that are all from Wisconsin in one of Neuske's gift baskets.
Aside from our beer and cheese, what's more Wisconsin than an Old Fashion? Gifting the ingredients of an old fashioned is the perfect gift to bring a little Wisconsin bubbly to out-of-towners.
Wisconsin Mustard Museum Gifts
You'll find everything you need for holiday gifts from the Mustard Museum in Middleton. From oils and vinegars to chocolate and preserves, and of course mustard, the Mustard Museum has sweet, savory and aromatic gifts for your loved ones.
Squeaky Cheese Curds
Any true Wisconsinite knows the fresh cheese curds are the ones that squeak. Give others the gift of champions by getting them Wisconsin cheese curds.
With "Quality milk, ice cream and cheese since 1951," Babcock Dairy is a staple in Wisconsin and while the ice cream may not make it if you're traveling far, the cheese still will!
It isn't the holidays unless you have a Kringle. Stop by Greenbush or other bakeries to bring one to any holiday gathering.
Traveling and seeing family from out of town is always a great part of the holiday's. No matter your traditions have a happy and safe holiday season!