A Madison nonprofit is fighting to make Wisconsin schools inclusive for all members of the LGBTQ+ community
(Photo courtesy of GSAFE)
Shawn Fredricks, a former health and physical education teacher at Beloit Memorial High School in Beloit, described always separating her students between boys and girls.
Though she considered herself a pretty accepting person, Fredricks said until she went to a training hosted by the organization Gay Straight Alliance for Safe Schools (GSAFE), a Madison based nonprofit advocating for LGBTQ+ youth, she was not aware about how much she did not understand about identity.
"I would say 'boys over here and girl over there' without giving it much of a second thought," she said.
The small staff at GSAFE has been training Wisconsin educators for the past decade in creating a safe and supportive educational setting for students who do not fit into gender conforming labels.
In the past five years, the educational sessions shifted its focus to highlight the experiences of transgender students as well as LGBTQ+ students of color.
"Historically transgender students and LGBTQ+ students of color were excluded from the conversation," Brian Juchems, the senior director of education and policy at GSAFE, said.
Naomi, a graduate of West High School in Madison who identifies as queer, said many of her teachers were willing to try and make all students comfortable, though many would get confused, frustrated and give up.
She said she remembers that when a classmate of hers began using "they" pronouns, some teachers were more accepting than others.
School districts are now reaching out to GSAFE to request trainings surrounding the lesser talked about topics within LGBTQ+ conversations such as not automatically using he or she pronouns.
One of the newly created training sessions called "Supporting and Including Transgender" discusses key terms such biology, expression, identity and sexuality as well as highlights the best practices that other school districts have taken to accommodate gender nonconforming students.
Fredricks admitted that prior to the GSAFE trainings, she did not truly understand what being transgender meant.
"I feel like I really gained a handle that being transgender isn't just a choice," she said. "It is something that someone knows about themselves at an early age."
GSAFE has been hosting trainings for educators and school staff members across Wisconsin since 1995 and trains over 1500 individuals every year, according to their website. The sessions focus on supporting Gay-Straight Alliances, creating "Safe Zones" for students and discussing best practices for being inclusive of all students.
"The classroom should be a place where a student can truly be themselves," Juchems said. "A student shouldn't have to limit themselves for the sake of making other people comfortable."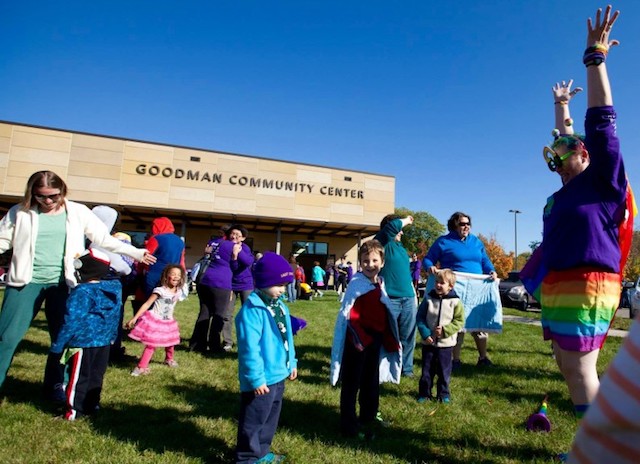 (Photo courtesy of GSAFE)
The trainings, which are usually given on request of a school district or specific school, give teachers the opportunity to ask questions, Juchems said.
Juchems always urges educators during the trainings to admit if they are not familiar or comfortable with a topic, but he pushes them to be willing to talk about the topics initially in the training and then with students.
"Especially in elementary schools, kids are watching their teachers and following their example," he said. "Educators are communicating something and setting a tone for students by not talking about certain topics."
Naomi said trainings such as the ones GSAFE are hosting would be beneficial to both students and teachers.
"A training, for teachers willing to learn and participate would be really good for the students," she said. "It would also make the teachers feel more comfortable and less confused when starting class with pronouns and using inclusive language."
Juchems said these educational trainings provide school communities with a framework for change across four levels.
The personal level encourages the educator to reflect on their personal beliefs, values and behaviors. The structural level focuses on being more inclusive within policies and procedures such as opening all gender bathrooms or not including solely male or female on forms about gender. The instruction level highlights the lessons being taught in the classroom to incorporate more about the LGBTQ+ community. The last level is the interpersonal level, which encourages educators to be conscious in how they speak to students and be mindful if using gender conforming language.
Since the trainings first began, the GSAFE staff has helped institute change in schools across Wisconsin among all four levels, according to Juchems.
Juchems said him and his team helped update the Madison school district nondiscrimination policy to include all genders.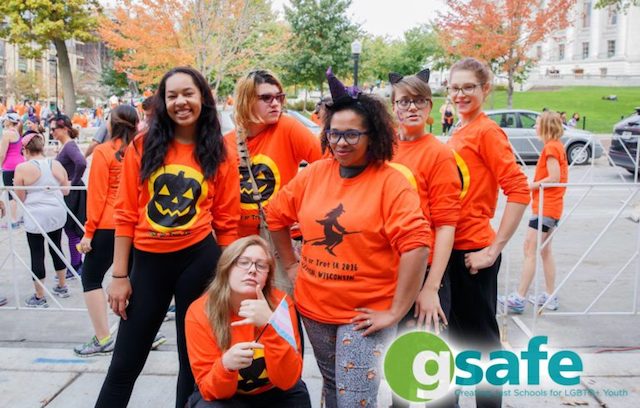 (Photo courtesy of GSAFE)
He also said with the construction of the new high school in Verona, GSAFE is currently working to ensure that the building includes a gender-neutral bathroom in order to make the school more structurally inclusive.
Juchems explained a major downfall of the training is that it is usually solely a two hour event, but he hopes the school community continues talking about the topics discussed during the training.
"We're the ones who plant the seed, but it's up to them to take the next step," he said.
The GSAFE trainings inspired the Beloit school district to create an action plan to develop a more welcoming environment for all students, Fredricks said.
Fredricks said she is working with school district officials to include books by LGBTQ+ authors at all schools libraries, hire a staff member at all schools that is well-informed on LGBTQ+ issues and ensure that all faculty members have a solid knowledge base on creating inclusive classrooms.
"Education is supposed to be available for all of our children, regardless of who they are," she said. "It is up to all of us to make sure each child feels valued in order to grow."