An edible classroom at Sherman Middle School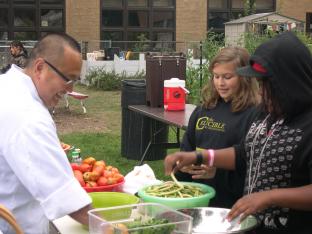 Chef Tory, with students at Sherman Middle School: Credit: Ginny Hughes"How can I affect how these kids are eating?"
That question drives Chef Tory, the executive chef for L'Etoile and Graze, to spend every other Tuesday at Sherman Middle School, teaching students how to cook from scratch using whole natural foods.
Now in its sixth year, Cooking Healthy Options in Wisconsin, or CHOW, was originally conceived by Chef Tory and one of his cooks. At the time, Sherman Middle School had just recieved a "Fresh Fruits and Vegetables" grant from the state, and so it seemed like an ideal school to pilot the CHOW program.
What started as cooking demonstrations has expanded to include a school garden, which provides the raw materials for healthy snacks and meals, and also serves as an outdoor classroom for integrated, hands-on learning.
Although having an "edible classroom" was always part of Chef Tory's vision for the program, it wasn't until the end of the second year, that he began planning for a school garden. Thanks to a grant from Diane Christensen, a L'Etoile co-proprietor, the Sherman Middle School Garden became a reality.
As the planning for the garden began, Chef Tory approached one of his employees, Ginny Hughes, who had expressed an interest in farming, about being the school garden coordinator, a position she holds to this day. With Hughes working throughout the growing season, as well as an after-school garden club and a summer program, Sherman's garden avoids the weedy fate of many school gardens, remaining well-maintained and productive, even after school lets out for the summer.
Access to an on-site garden has not only enhanced the school's overall learning environment. According to Mike Hernandez, Sherman Middle School's principal, seven of the nine academic teams use the garden for integrated units across the arts and sciences.
As the use of the garden has expanded, so has the number of people involved and the scope of the program. Volunteers from REAP, a local nonprofit, and AmeriCorps help with cooking demonstrations. Another nonprofit, Community GroundWorks, helps with the garden. High schoolers involved at the East High Farm, many of whom participated in the Sherman Middle School garden, now mentor younger students.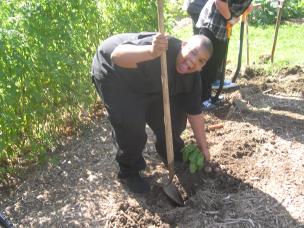 Credit: Ginny Hughes
As a result, the project continues to flourish. Even in the midst of unfavorable budget conditions for public schools, Hernandez described the program as "well-established and getting stronger."
According to Chef Tory, students now have a better grasp on terms like "sustainable," and "organic," terms which elude many adults. And they are being introduced to healthful foods they may not otherwise encounter at home. Parents say to him, "My son's cooking up a storm and I don't even know what half the ingredients are!"
When asked how his involvement at Sherman Middle School fits into his role as a chef, he explains that it came naturally. He wanted to create a program to teach kids about healthy choices, discussing whole, natural foods and cooking from scratch. He understands that many kids learn better when they are out of their desks. And what better way to get kids interested in where their food comes from than by growing, cooking, and eating fresh food?
To learn more, check out the Sherman Middle School Garden's Facebook page and L'Etoile's website.