Cats mingle with their fans on cat cafe's opening day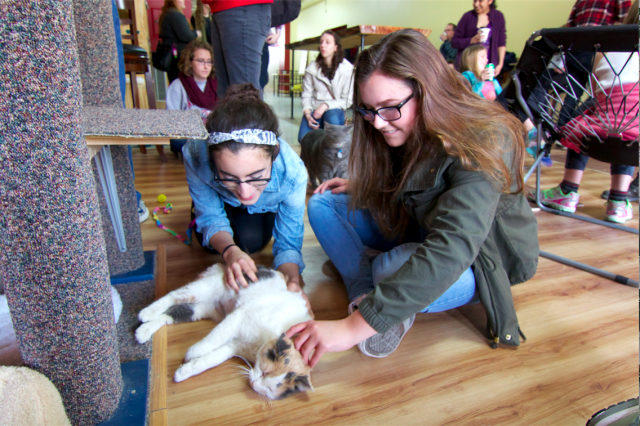 Sugar Bee relishes attention from visitors Maria Camacho and Rorie VanderPloeg. (Stephanie Jean Tsang/Madison Commons)
Are you a cat person? Do you want to find out if you are? Madison now has a local establishment where you can immerse yourself in a room of cats.
That is the idea at Cat Cafe Mad, Madison's first cat cafe, though the cats were a bit skittish on opening day. The cafe opened on Monroe Street earlier this week.
This is how it works: Visitors pay a cover charge of $10, which covers entry and a (non-alcoholic) drink like coffee or soda. Visitors can serve themselves a drink from the "coffee cage" or go straight to the zone where cats ramble around. The zone takes up most of the store. It has exercise mats on a wooden floor, scratching posts along the side of the room and a few tables near the front, where patrons can sip their drinks, read a book or, if they are so inclined, catch up on work.
On a visit on opening day, only a few cats were visible at first glance. While a black and brown-striped kitten and a black cat batted at a visitor's waving cat charmer, Silvie, a white cat with black and orange patches, spread out on the floor and welcomed visitors' pets. Only three or four cats were active on the exercise mats. The majority of them, feeling shy, scoped out the scene from a room labeled "Employees Only."
Cheryl Glover and her daughter and son run Cat Cafe Mad. While cat cafes are popular in Asia and Europe, they are rare in the United States. Glover and her children want to change that.
"We love cats, we love the concept, it's just a wonderful place where people are happy," Glover said.
It took Glover over a year to make the cafe a reality because so many people were unfamiliar with the concept. She tried at least five other states, including New Jersey, New York and Florida, before settling here.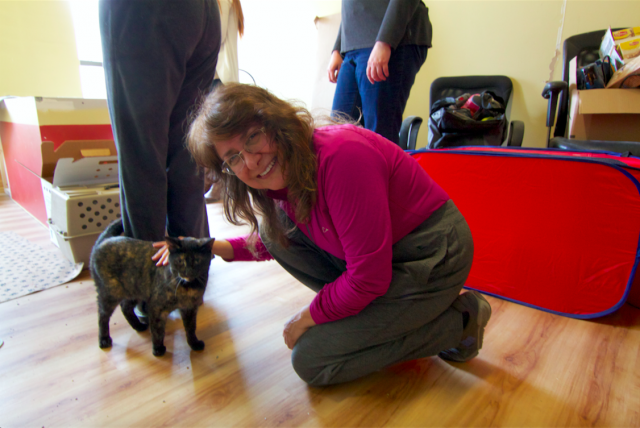 Cat Cafe Mad owner Cheryl Glover gets down to Silvie's level. (Stephanie Jean Tsang/Madison Commons)
Currently home to 12 cats, the cafe expects to have 15 by the end of the week. Most of the cats come from local shelters. Visitors can contact the specific shelters if they meet a cat they're interested in adopting. The cafe also plans to offer host on-site adoptions on Saturday and Sunday mornings.
As the crowd gathered around the hiding cats, Glover encouraged the visitors return the open space where the cats were supposed to be so that the cats might follow.
Besides adapting to the environment, which is very different from the small, individuals areas most cats are used to in the shelters, Glover said the cats would also need to adjust to the noise level. "There is a lot of talking and a lot of laughing. Give them a few more days, and they'll understand."
Once the cats acclimate, the cafe could be a prime destination for study breaks—or studying itself.
"To get work done, what's better than a place with cats?" said Miranda Ehrlich, a UW-Madison graduate student.