Despite manure spill, supporters say community digesters have positive impact on environment
In November, a pipe ruptured on Dane County's community manure digester, which converts cow waste into power. About 360,000 gallons of manure flowed through a dry ravine, according to Wisconsin Department of Natural Resources spokesman Bob Manwell. The spill entered a creek and reached the village of Waunakee, located more than two miles away, bringing with it an odor.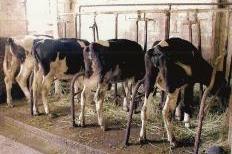 Photo Credit: Don Heeren
"As far as environmental damages, there was no immediate fish kill, which is a good sign," Manwell said. About 90 percent of the spill was cleaned up within a week, he said, but some of the spill, located in areas unreachable by equipment, remains.
"We're not saying there were no damages," Manwell said. "This is going to take some time, and we'll continue to monitor to see what impacts there may be."
After the event, Dane County officials reviewed data from water testing stations that monitor levels of phosphorus, a nutrient that pollutes the lake. It showed 30 pounds of phosphorus from the spill had passed through the stations, said Josh Wescott, chief of staff for Dane County Executive Joe Parisi.
Wescott noted that during a heavy rainfall, 4,400 pounds of phosphorus enters the same tributaries that feed into Lake Mendota through runoff from fields where farmers spread manure as fertilizer.
"The good news is that, despite the incident that happened there, it looks…that not much product made it, if hardly anything at all, into the lakes," Wescott said.
In spite of a potential spill, digesters promise an environmentally cleaner future for the county and the state, experts and supporters say. They also say that the county's newest community digester will further reduce environmental impacts of agricultural operations.
While manure spilling into the county's watershed may frighten some, digester supporters say that November's spill was a rare occurrence, said Rebecca Larson, University of Wisconsin-Madison professor of biological systems engineering.
During the last 15 years, more than 430 manure spills were reported in Wisconsin, according to DNR data. Of those reported, only four are known to have spilled more than 250,000 gallons, including a 300,000 gallon spill into the Lake Mendota watershed at UW-Madison's Arlington Agricultural Research Facility last February. Seventy-four spilled an unknown amount of manure.
According to the data, which tracks manure spills in the state regardless of facility size and operation, 33 manure spills occurred in 2012. Wisconsin had 11,490 licensed dairy farms in 2012, according to Wisconsin Milk Marketing Board data.
"We do have instances when there are breaks and other things even when we correctly design things," Larson said. "But overall, we don't see a lot of issues with these types of systems."
Even though the spill may seem large, it increased phosphorus levels in lakes by a minuscule amount compared to the agricultural runoff that happened last winter, said Dick Lathrop, UW-Madison limnology professor emeritus. He noted since it began its operations, the community digester has treated millions of gallons of waste.
"If they hadn't had the digester that would be 87 million gallons of raw manure that would have been spread on the landscape and vulnerable to runoff, especially in winter," Lathrop said.
Phosphorus serves as a fertilizer for farmland but it poses health hazards to the public and wildlife when washed into the county's watershed, Lathrop said.
He said one of the main concerns with phosphorus runoff is that it causes blooms of blue green algae, also known as cyanobacteria. Cyanobacteria contain a pigment allowing them to photosynthesize, leading people to refer to them as algae even though they are technically bacteria, Lathrop said.
Some of these species of blue green algae produce powerful toxins capable of causing deadly lesions on livers and kidneys, and others produce neurotoxins that can cause seizures and respiratory problems, according to Lathrop.
"Dogs go out to the lake and drink water because they're thirsty in the summer," Lathrop said. "They can imbibe toxins too, and we've had a number of dogs die because of it."
While the blooms have always been a danger, people have become more aware of the bacteria in recent years due to improved testing for the toxins that did not exist a decade ago. Lathrop said reducing phosphorus levels in lakes will reduce algal growth.
Even though decreasing phosphorus in the lakes was a key component of the community digesters, they do not remove the nutrient and only convert waste into power.
The community digesters are anaerobic, meaning they work by removing oxygen. Larson described them as large empty tanks filled with manure. By removing oxygen, a set of microbial populations that produce methane as a waste product dominate and decompose the manure.
In waste systems where oxygen is present, a different set of microbes causes the manure to decompose. That set of microbes does not produce methane, a component of natural gas.
"The methane is the key piece that we can use for energy production," Larson said. "The main type of that is that we take it and we use it in a generator system, so we use the methane to run a generator and produce electricity."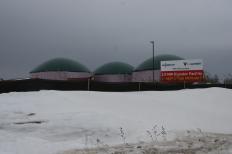 The new Springfield manure digesterSeparation equipment attached to the digester removes the phosphorus after it removes the methane. The equipment splits the manure into a solid stream and a liquid stream, Larson said.
The first community digester, owned and operated by Clean Horizons LLC, has a separation system that removes phosphorus and ships it outside the watershed, Larson said, adding the new project in Springfield has even more sophisticated equipment that should separate out more phosphorus.
While reducing phosphorus has been a key feature of Dane County's digesters, they also reduce greenhouse gas emissions, she said. Without the digester, methane would immediately enter the atmosphere and facilitate climate change.
"Digesters are great because they produce energy from waste material that already exists," Larson said. "We capture methane and then we can use it to produce energy. Not only are we producing energy, we're reducing the greenhouse gas emissions that normally occur."
Digesters solve another problem because cows produce more manure than land exists to spread it on, said Elizabeth Katt-Reinders, program and policy director for Clean Lakes. According to the DNR's website, a cow produces 150 pounds of manure in a day.
"It's more than a manure management issue," she said. "It's a business issue for the agricultural community…they need to do something with the manure."
Dane County has historically high levels of phosphorus due to more than a century of agriculture surrounding the lakes, Katt-Reinders said. Because of the already high levels, manure is not always needed, she said.
Digesters are a new technology, however, and costs are often a prohibiting factor, according to Larson. While some of the 30 manure digesters in the state have been successful in making a profit, others have struggled because of the effort and skill needed for the system to work effectively.
"We have a lot of new and exciting things that are always developing in the area that will hopefully make the system more profitable as well as improve their performance." Larson said.
Dane County has helped facilitate building the community digester near Waunakee and the new digester by Springfield since multiple farms share them – the first community digesters in the nation, as far as the county knows, Wescott said. The County Board recently approved another digester, which will be located in the Town of Bristol.
Wescott said the Springfield digester is operational, and the manure tanks are being filled. Once enough methane builds up to generate the electricity, it will provide enough power for 2,500 homes.
The new Springfield facility, operated by Gundersen Health System, takes solid waste processed by the digester and makes it into mulch, further reducing phosphorus content, said Don Heilman, Clean Lakes Alliance president. He said the Waunakee digester facility plans to create a similar system, but currently produces fiber, which is sold to farms as bedding.
"That's basically a closed looped recycling because the same fiber will come back with the manure the next time," Heilman said. "So it doesn't get out in the fields in the raw form."
The Middleton facility uses a reverse osmosis treatment, removing the water from the rest of the waste, to process the liquid stream of manure. The treatment removes enough phosphorous from the water to make it drinkable, Heilman said.
He remarked on the novelty of a community digester.
"It's really state of the art and it falls in line with what Dane County has been doing for a long time and trying to be progressive about how we work with agriculture," Heilman said.
However, more needs to be done to address phosphorus levels, Heilman said. Only 15 percent of the manure generated in the watershed will be processed by these two digesters, meaning the other 85 percent is being spread in fields, Lathrop said.
A new system of digesters and waste treatment facilities should be put in place to further reduce phosphorus build up in the lakes, Lathrop said.
"We need to be handling all the manure in the watershed and no more land spreading of manure," Lathrop said. "Then we'll really be making a difference."