From Guinea to Madison, dancing with Maya Kadakia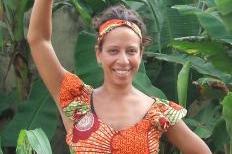 Maya Kadakia, photo by Chris HoppeOn a Tuesday night in late November, more than 20 people came in from the cold to heat up the Center for Conscious Living in Madison with drums and dance. An ensemble played rhythms that often shook the floor, and dancers worked through moves exported from Guinea, West Africa. Maya Kadakia worked at the center of the event, demonstrating moves and leading the weekly drop-in class.
"[The students] are very diverse," said Kadakia. "Some are members of our [performing dance] group. Some are people that like to get exercise. Some enjoy the cultural elements."
Kadakia did not like African dance when she first tried it. She attended a class at her partner's insistence and kept going until it clicked for her. Fifteen years later, she now spends about nine hours per week teaching or practicing Guinean dance.
The rest of the week Kadakia teaches seventh grade social studies and language arts for the Madison Metropolitan School District.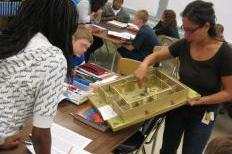 Kadakia teaching students about Guinea, photo by Kevin Schneider"I love that," said Kadakia. "I've been doing that for about 15 years as well."
Kadakia grew up doing folk and traditional dances, as well as ballet, jazz, and tap. She also likes to dance to live music, outside of the studio.
African dance, Guinean dance in particular, resonated with Kadakia. She took over for her instructor in the early 2000s, after her first years studying African dance. She travels regularly to Guinea to study dance and drumming, and she got the idea for her first trip from a friend who planned to travel to study drumming.
"I [thought] 'I want to do that too. I want to go study the dance' -- especially because at that time my teacher had just left me his class here," said Kadakia. "I felt really like I needed to do more studying, before I was ready to take over that class, teaching a tradition I really knew little about."
In addition to the class at the Center for Conscious Living, Kadakia also teaches dance for the UW-Madison Dance Department and the UW-Extension. She performs with two groups as well. With Guinean praise singer and master drummer Mandjou Mara, the two lead the Kikeh Mato group and the Limanya Drum and Dance Ensemble. Kikeh Mato incorporates a West African, Afro-pop style of music, while the Limanya Ensemble performs traditional drum and dance. Kadakia performs with these groups at schools, in festivals, and even for weddings.
Guinean dance brings joy into Kadakia's life, she said, and she recommends it to those who've never tried the style.
"It's great. It's community-based. It's communication with the drummers. It's awesome exercise. It's about your personal expression. You're learning cultural information," said Kadakia. "It's too awesome not to try."