Lincoln Elementary School plans outdoor learning space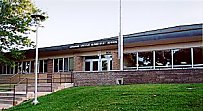 Burr Oaks Neighborhood Association unveiled plans for an outdoor learning space to neighborhood officials meeting last month. The outdoor learning space will be on a lot beside Lincoln Elementary, is an ongoing sustainability project.
The outdoor learning space plan consists of an outdoor wellness path, a community garden, a community tool shed for children, and an outdoor classroom structure. Along with the physical aspects of the project, those involved with it intend to incorporate a curriculum for students at Lincoln Elementary.
The outdoor learning space idea began as a capstone project for fourth grade teacher Josie Guiney Igielski's sustainability leadership graduate certificate at Edgewood College.
Madison Metropolitan School District (MMSD) funded the sustainability certificate for Guiney Igielski and three other local teachers, and asked graduates to create a project to increase the environmental sustainability of a place they love.
"Lincoln is a place that I love, so I really wanted to think about what we could do here to bring sustainability education to elementary schools," Guiney Igielski said.
According to a project description on Edgewood College's website, the impact of the outdoor learning space "will stretch beyond the Lincoln School grounds to serve as a model for sustainability initiatives throughout MMSD and in other school districts."
The site also notes that the outdoor learning space will be "home to a National Wildlife Federation certified Wildlife Habitat."
The completion of the project heavily relies on the amount of money it receives. Guiney Igielski's fourth grade team teacher, Kari Petre, said that funding is the main issue in terms of when the project will be completed.
"The wellness path will be finished this year, completely in 2012," Petre said. "We're hoping that in the next two years we'll have enough money to build the shelter."
The wellness path is presently a third of the way done, and teachers hope to use by next school year.
Guiney Igielski said that the completion of the wellness path was paid for from a combination of money donated by the Parent Teacher Organization, grants, an anonymous donor, as well as the donation of time and equipment by architect Bob Downey.
"Our amazing architect Bob Downey, he donated a lot of his equipment, his men, his supplies," Guiney Igielski said.
Guiney Igielski noted that the neighborhood's involvement is a big component of whether or not the outdoor learning space will succeed. A $1,000 donation from neighborhood association signaled the neighborhood's involment.
"Studies have shown that you can have the most beautiful space in the world and without people invested in it as in curriculum and time invested in it, people aren't going to use it, or they'll lose interest in it," Guiney Igelski said.
While the outdoor space will be located on the lot beside Lincoln, and be used greatly by students of the Elementary, both Guiney Igielski and Petre have expressed their excitement of the space to be used for the entire Burr Oaks neighborhood.
"We want to establish intergenerational curriculum and planning," Guiney Igielski said as she talked about the plan to connect Lincoln Elementary students with members of a nearby retirement home. "We would have walking buddies that would encourage their physical wellness and go hang out with them and have reading buddies and harvest things from our garden and give it to them."
The outdoor learning space is also described as an area where families can gather and enjoy time outside. Petre noted that the space will be a nice way to show students' families, as well as the entire neighborhood, that Lincoln Elementary is more than just a place where kids attend school.
"It's great for people in the community to see our school as something else, even if they don't have children here, to see it as a friendly place to come. And that's part of connecting to your community," Petre explained. "If we can't get parents to come in for conferences and things, if they come here and use the facility at the school for instance for a family picnic, maybe they'll be more comfortable for a conference."
When asked if she knew when she thought the outdoor learning space would be completed, Guiney Igielski quickly responded with "never!"
"I don't, in a good way. I just think that things are going to keep popping up that we want to add to it," she said.
Other continuing ideas about the learning space include partnering with the UW Space Place on Park St. to create things like a human sundial.