Madison's Own Summerfest
Atwood Summerfest, a fundraiser and community building event organized by a corp of volunteers from the Goodman Community Center, gathered hundreds of people on Saturday for some good food and music that can only be found on Madison's east side.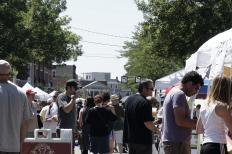 "[The festival] brings the community together," said Becky Steinhoff, Executive Director of the Goodman Community Center. "It hopefully promotes our local businesses and artists…and brings attention to the east side of Madison."
Kristin Groth, an employee at the community center and event volunteer, has been involved with Atwood Summerfest for many years. According to Groth, the event began as a fundraiser for the community center.
The Goodman Community Center organizes preschool through older adult programming, provides community meals and has an open food pantry.
"Part of our mission is to build community and we thought [Atwood Summerfest] was a great way to bring the community together and have a party, basically, in the middle of summer," Groth said.
Such a party wouldn't be complete without minor setbacks. Just two hours after the event started a generator failed causing the event coordinators to "run around like chickens with our heads cut off" as Steinhoff put it, while they tried to figure out what needed to be
fixed. "It's just one of the many little things that happen during the festival," Steinhoff said.
Hot weather can be bad business for food vendors but great for beer sales. The Ekman family sought out shade from the sunny streets shortly after their arrival at the festival. "I'm not hungry because it's so warm right now," said Elizabeth Ekman, although she did want to try some Jamaican food eventually, while dad, Jim, clutched a cup of beer.
The Berge family lives an hour away from the Atwood area, but enjoys coming to the festival every year. When asked what their favorite part is, daughter Pippi, 8, piped, "Eating snow cones!"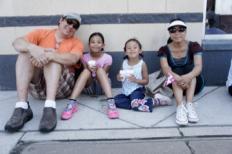 Son Inthachith, the owner of Lao Laan-Xang, a family restaurant specializing in Laotian cuisine, had a booth in front of his restaurant on the west end of the festival. This is the second year he has participated in Atwood Summerfest,
noting that the festival lunch throngs keep his family and business busier than the usual lunch crowd.
"A lot of people come down here who don't realize that our restaurant is
here, so we get a lot of good PR for that," Inthachith said.
Not all vendors were business owners. Jen Lacy and Monica Livingston were fundraising for a trip to San Francisco for a half marathon in October that benefits the Leukemia and Lymphoma Society.
"I just love all the diversity and all the stuff going on, and I love listening to the music," said Livingston, who has attended the festival for a couple of years. Their hand-made products included goods from running and cycling skirts to baby blankets.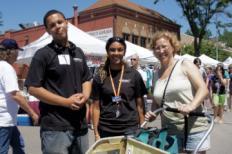 "Having a booth here is not only helping us do our fundraising, but it's helping the Goodman Community Center fundraise too," said Lacy, who was enjoying her first time at the festival. "So it's a good cause all the way around."
This year, two volunteers, Maggie Brick and David Kerman, took on the task of heading the organization of the festival as they were also planning their marriage vows. "It's their wedding day today," said Steinhoff. "[Their help] was a huge gift to us."
Steinhoff talked about the community efforts including the volunteers and partners who made the Atwood Summerfest possible. "Each group does a little bit to make the whole event go smoothly," she says.