Madison-area educators work with UW research design team on educational video games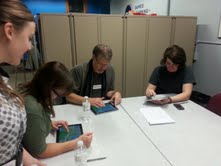 Madison-area educators test video games at an event sponsored by the Games Learning Society at UW (Courtesy photo).
As teachers attending an educational workshop walk into a building where video game posters and a Mario landscape decorate the walls, not to mention the cookies and chips laid out as refreshments, things may seem all fun and games. And in some ways, they are. However, the fun and games at the Games Learning Society (GLS) seek to make the classroom a more engaging place for education.
At this game night, educators from around Dane County will be trying out a game currently titled "Trails Forward," which is similar to SimCity. As they build a city, players learn lessons about environmental sustainability. For many of the teachers in the room, sitting down with a video game is a rare experience. For their students, of course, it is second nature.
At GLS, located in Madison, Wisconsin, researchers explore how video games capture people's interest. And they engage area educators in the process of designing engaging games that promote learning.
The teachers in the room on a Thursday in November, many of whom are not used to video games, were still interested in their educational possibilities.
"Young people's whole lives are focused around these kinds of technologies," Middleton High School teacher Rick Evans said. "(There can be) a ton of applications for the classroom."
The pertinent question surrounding video games has shifted from whether or not they're bad for kids to how they can be made to assist learning. It turns out that the concepts of "fun" and "learning" are not necessarily as separate as one may think.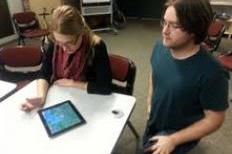 At Games Learning Society's Game Nights, area educators test recent creations (Courtesy photo)Educational video games must be genuinely fun to work, because the brain only really wants to learn things that lead to reward, said Shawn Green, a video game researcher and assistant psychology professor at the University of Wisconsin-Madison. Video games release pleasure-related neurotransmitters, which makes our brains more "plastic" or willing to make the new connections between neurons necessary to learning.
"The brain doesn't want to do that unless it's worth it," Green said.
Stefan Slater, an associate research specialist at GLS, believes video games provide students an engaging learning experience that's intrinsically more motivating and interesting.
Slater rejects the traditional idea that just reading textbooks equates to learning. Instead, he focuses on embodied cognition, which implies that the act of doing something, such as interacting with a video game, is inextricable from the act of learning.
"Even if you're not reading anything, you're still forming explicit connections about the things that are going on in the game," Slater said.
David Shaffer, an educational psychology professor at UW-Madison, uses this "learn by doing" approach. He studies and builds video games that simulate real-world situations for students, such as games where the student plays as a debater, journalist, or even a member of the Continental Congress.
Shaffer found that portraying realistic ways of thinking in video games gives students a better understanding of what is being simulated.
"You spend ten or twelve hours working to design a kidney dialysis membrane, and not surprisingly you learn something about kidney dialysis," he said.
The games developed by the GLS span several genres, and many are STEM games, related to Science, Technology, Engineering, or Mathematics.
However, through a partnership with Richard Davidson, a UW-Madison professor of psychology and psychiatry, GLS is currently expanding its content to include a meditative app and a role-playing game that encourages pro-social behavior by the recognition of nonverbal cues.
Green is currently studying what aspects of action games like Call of Duty and Grand Theft Auto, which generally improve hand-eye coordination, visual processing and reaction speed, facilitate learning so he can create a game for kids without the violence found in adult action games.
Although their areas of expertise lies in different types of games, Green, Shaffer and Slater all agree that many so-called educational games do not do much for students. They pointed to a game called Math Blaster, where kids solve math problems as an astronaut, as an ineffective example (Green called it "chocolate-covered broccoli.") The mechanics of the game must be logically tied to the learning process in a meaningful way, said Slater. In other words, having kids solve equations to refuel the tanks of their rocket ships in Math Blaster doesn't connect the content kids are supposed to be learning to the reason they're doing it in the game.
Game designer Mike Wikan, who worked on Metroid Prime and Donkey Kong Country, interweaves the educational content into a game that people would play regardless of its educational value.
Despite video games' educational potential, using video games in the classroom is currently difficult. The kinds of video games that prepare students for complex, real-world problems just aren't useful for the standardized tests that are so often emphasized, Shaffer said.
Slater believes that video games still require external guidance from teachers. People can't treat the game as a "thing that exists in a vacuum that produces learning," he said. "That's not the case for games just like it's not the case for a textbook."
Green is hopeful that video games will eventually be used in the classroom more often, and GLS may be a leader in getting more educational video games into students' curriculums.
Madison-area educator often are among the first to see these technologies. GLS hosts a professional development workshop called Game Night about once a month for teachers and others in the Madison area. Game designers showcase a developing game to gain feedback and discuss how games can be used effectively as part of a school curriculum.
November's Game Night featured the multi-player, competitive world-building game Trails Forward (a working title), which targets ages 9-12, but has the potential to appeal to a broader audience. As a sort of more intricate, realistic version of SimCity, the game teaches students how to make informed decisions regarding land-developing, with an emphasis on ecological sustainability. Students must keep in mind the environmental, financial and institutional implications while making choices in the game.
At the workshop, GLS passed around iPads, one of the game's possible platforms, to the attendees. Not long after, both outside game developers and educators who had "never played a video game" in their lives were playing a very early version of Trails Forward together.
Teachers aren't the only ones benefitting from the Game Night. GLS encourages feedback on everything from the intuitiveness of the game mechanics to title ideas.
GLS has several free games on their website and PlayFulLearning.com, an online network where teachers can find educational games based on what they're trying to teach and incorporate them into the curriculum.
Video game developers are designing educational games that are both fun for students to play and effective in promoting learning. It's now up to teachers to bring them into the classrooms.
"The generation that's becoming teachers is actually the generation that grew up with video games," Green said. "They're clearly a powerful tool, so you might as well harness it rather than gripe about it."