Madison Commons Virtual Garden Show: Atwood Community Gardens makes gardening accessible to all
This is the eighth in a continuing series of snapshots of some of Madison's community gardens, a "virtual garden show." For more, click here.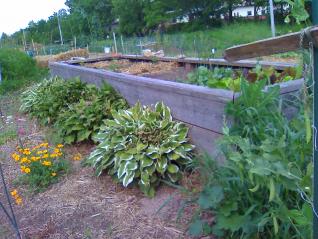 A patchwork strip of vegetables, fruit, and the occasional plot of flowers stretches along the Capital City Bike Path for six blocks, embodying the eclectic mix of personalities that characterize Madison's East Side. The Atwood Community Gardens, which are administrated by the Goodman Community Center, boasts such diversity thanks to its "sliding-scale fee," where gardeners pay what they can afford.
From as low as four dollars per plot to upwards of $200, plot fees are determined by the renter's income, according to Kathy Utley, Food Resources Manager at the Goodman Center. About 60 percent of gardeners pay full price, while the rest receive discounts of varying amounts.
"We make accommodations for people who want to garden but don't have the financial means to," Utley said. "And it's really good for their diet, too, and it's good for their mental health."
Not only do the Atwood Gardens welcome people of any economic standing, they also accept gardeners from anywhere. Some don't even live in Madison, Utley said. In fact, there are no requirements or applications for plots; prospective gardeners just email their names to Utley.
But the garden's one-by-six block strip between St. Paul Avenue and Atwood Avenue (adjacent to the Goodman Community Center) holds 110 plots – hardly enough for everyone. There is a two-year waiting list for plots.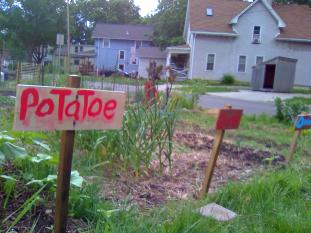 Gardener Rita Garczynski almost traded her plot for ukulele lessons with a neighbor who is on the waiting list.
She ultimately decided to keep it; her garden at home lacked enough sunlight and she liked the camaraderie among growers. Another gardener also noted the sense of community fostered by neighbors staying connected to each other through the Gardens.
Utley said the Gardens also add to the charm of the neighborhood. When she first came to Madison, she saw the Gardens every morning as she biked to work.
"This is just such a beautiful way to start your day and it has such a healthy, sort of cheerful feeling to it," she said, noting that the vegetable gardens (the majority of plots) are especially beautiful around August. "I think the Atwood Community Gardens are really a reflection of the culture of the east side of Madison, because each person sort of does their own thing and everyone is tolerant of that."
Utley characterizes East residents as "more socially-conscious people," citing the sliding-scale fee and the annual farmer's market held by the community gardeners as evidence. The market is held for two Wednesdays in August or September, outside the Goodman Center's food pantry. For those two days, food pantry customers can peruse the fresh food-laden tables and take whatever they want for free.
"It's a wonderful way for community gardeners to share what they've grown to help others," Utley said.
And since the food is what individuals grow for themselves, food pantry customers may see something they are not familiar with. They can ask the gardener questions, such as what and how to cook with the new fruit or vegetable.
"It's a great way for food pantry customers to meet the people that grow this food and talk to them, and for them to meet customers. It's a great community building experience," Utley said.