Madison community members press for greater strides in clean energy to combat effects of climate change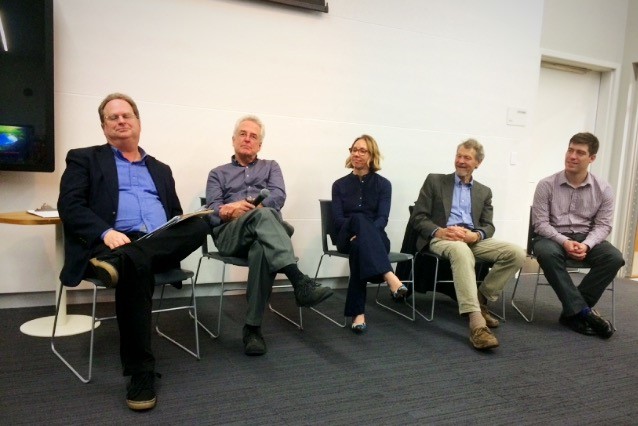 Panelists answered questions about Dane County's energy future. From left to right: Gary Radloff, Dave Merritt, Jeanne Hoffman, Don Wichert and Mitch Brey. ( Trina La Susa/Madison Commons)
On Monday evening, about 100 community members filled the Madison Central Library's conference room for a belated Valentine's Day event discussing Dane County's relationship with clean energy.
The "Madison & Clean Energy: A Local Love Story" event offered presentations on clean energy initiatives by the City of Madison and Dane County government branches, as well as discussions about Madison Gas and Electric Company's (MG&E) progress toward renewable energy goals in the midst of a new CEO. RePower Madison, a grassroots movement to make Madison a leader in clean energy, organized the event.
Jason Vargo, Assistant Scientist in UW Madison's Global Health Institute and event moderator, opened with a conversation about the facts of climate change.
"Over 97 percent of top scientists agree human-made climate change it is occurring, while only three percent disagree. There's overwhelming consensus…Electric power generation is also the largest single source of carbon dioxide pollution emitted in the atmosphere," Vargo said.
Vargo, a public health scientist, said air pollution from the warming earth has increased the risk from health issues like respiratory and cardiovascular diseases.
"Climate change is not just an energy or environmental issue, it's also a human health issue," Vargo said.
Dave Merritt, Director of Policy and Program Development for Dane County's Department of Administration, spoke about current renewable energy and climate change programs in Dane County.
Merritt said Dane County Executive Joe Parisi's 2017 budget proposal would triple Dane County's production of solar power, and create a new Dane County Office of Energy and Climate Change and a new Climate Change Council to reduce carbon emissions in the community and convert fossil fuel burning vehicles like snow plows to cleaner burning renewable compressed natural gas.
The new County office and corresponding Dane Climate Change County Council are the next steps in efforts to address climate change on a local level through a "Dane County Climate Action Plan" which would have the county switched over to renewable energy by 2050.
"We certainly believe that local governments have the best position to demonstrate leadership and vision on this important issue [of climate change]. We cannot wait for the state government to step up, we cannot wait for the federal government to step up, we must lead the effort here in Dane County to address climate change," Merritt said during the presentation.
Jeanne Hoffman, the City of Madison's Facilities and Sustainability Manager, said the City is currently looking to develop a plan by January 2018 that would update its buildings and facilities.
The plan would support a new resolution from the Sustainable Madison Committee to achieve 100 percent renewable energy and net-zero carbon emissions in the city.
Gary Radloff, a researcher at UW-Madison and the Director of Midwest Energy Policy Analysis for the Wisconsin Energy Institute (WEI), stressed the importance of new renewable energy technology that reinvents the energy distribution system.
Radloff explained that only about one-third of energy is actually used in electricity because nearly 70% of energy is lostfrom generation, transmission and distribution.
A solution that could help save businesses billions of dollars annually could be micro-grids, or self-contained electric-power grid that easily connect and disconnect from traditional grids. Microgrids can increase energy efficiency, reduce carbon emissions by incorporating renewable energy sources, and enhance system resiliency.
"We need to start planning for change in our energy system," Radloff said.
Near the end of the event, speakers focused on MG&E's progress toward clean energy goals suggesting greater public input, stronger clean energy goals and more leadership in renewable energy.
Co-coordinator of the Shareholders of MG&E Don Wichert said that in the past three years 12 different resolutions have been filed to advocate for clean energy.
According to Wiechert, there are two currently pending 2017 resolutions. The first presents a rate-based renewable energy project to the Public Service Commission of Wisconsin, and the second is an implementation plan for electrification of the transportation system with renewable energy.
Wichert is hopeful that when the new CEO of MG&E Jeffery Keebler assumes office on Mar.1 he will be open to greater strides in renewable energy. .
Mitch Brey, the Campaign Director at RePower Madison, ended with a call to action for MG&E to make Madison a leader in clean energy with fair and affordable utility bills.
Brey disclosed that 68 percent of MG&E's electricity is derived from coal, meaning that 31 utilities in Wisconsin have a higher renewable percentage than MG&E.
RePower Madison encouraged residents to send postcards to the utility calling for MGE to commit to 100 percent renewable energy. Since the meeting, Madison Gas and Electric announced they will build a 66 megawatt wind farm in northeastern Iowa advancing renewable energy in Madison.
"We want more citizen input into energy planning. We also want to see MG&E launch new energy efficiency programs and make stronger renewable energy goals," Brey said.