MADISON RECOVERS: Increase in opiate abuse calls for long-term community intervention
Note: Over the next month, we'll be looking at Madison's recovery community, including the increase in opiate abuse in Dane County, local treatment options for those in recovery, and growing initiatives aimed at combatting substance abuse in and around Madison.
The '90s are back in fashion, but the trend is bringing more than grunge music and oversized flannel shirts. Heroin use, after steadily decreasing through the early 2000s, is becoming more common, and in the last year led to an increased number of deaths due to overdose in both Dane County and across the nation.
As part of its annual health review in October 2013, the Dane County Department of Health reported that hospitalizations due to heroin overdose had more than doubled since 2002. Since last fall, the community has responded through government and non-profit initiatives that aim to combat the increase and understand its roots.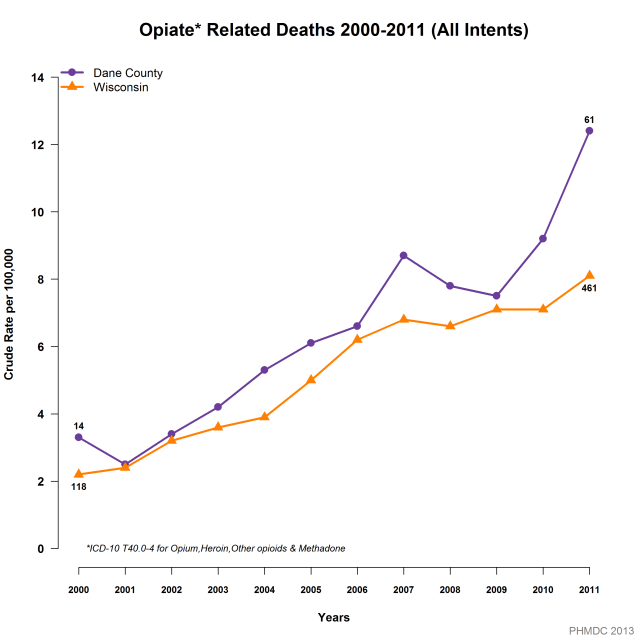 Courtesy: Public Health Department of Madison & Dane County
"It's really important to look at all opioids and consider the bigger picture," said Lisa Bullard-Cawthorne, a health education coordinator at the Public Health Department of Madison & Dane County. "If you're looking at opioids overall, there's a continuing trend. In the last decade, the rates have gone up incredibly."
In recent years, as lawmakers and physicians have worked to reduce excessive prescriptions of opioid painkillers, drugs like Oxycontin are becoming more expensive and harder to find. With the same effects for a fraction of the cost, patients who have become addicted to opioid painkillers are turning to heroin instead as a more potent – and more dangerous – alternative.
"It's something that the medical community did to the population." said Sarah Van Orman, director of University Health Services at UW-Madison. "There was this perception that prescription pills are safe. Then, you had a large group of people who were opioid addicted who transitioned to heroin. The problem is, when people use heroin it's much more common to see overdoses."
The over-prescription of opioids like Oxycontin and Vicodin to a wide array of patients led to a diverse group of addicts. This complexity and the taboos surrounding opiate addictions make treatment increasingly difficult.
"With users of powder cocaine and crack cocaine, there are huge socio-economic differences and divisions. Users of heroin really reach across the spectrum," Amy Margulies, a senior counselor at UHS, said. "If someone is caught, they are dealt with differently than if they have an alcohol problem. The addiction problem may not actually be any worse, but because it involves a whole different substance and a whole different system, there are very different responses."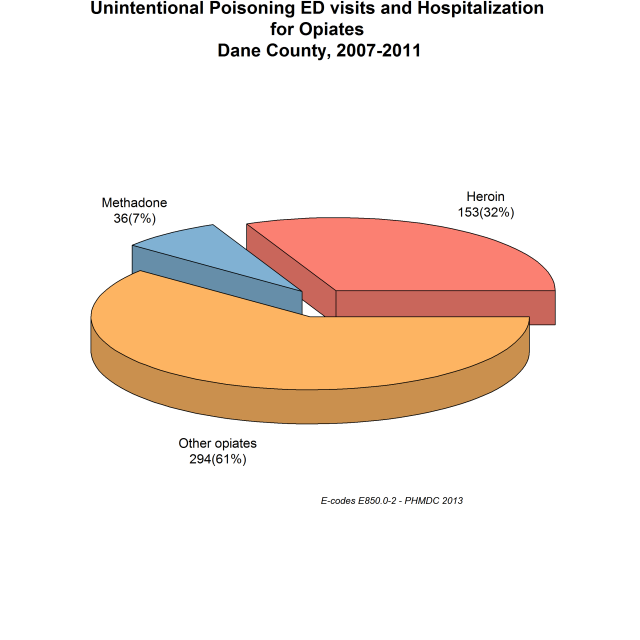 Courtesy: Public Health Department of Madison & Dane County
Wisconsin Governor Scott Walker signed seven bills earlier this year aimed at addressing the rise in overdosesand heroin addiction. One bill allows drug users to call 911 in case of an overdose without risking legal or criminal prosecution. Another makes Naloxone, a drug that counteracts heroin overdoses, more readily available to trained emergency medical technicians and other first responders. Walker also approved $1.5 million of public funding for alternative treatment programs.
In the non-profit sector, in order to respond to the growing need centers like ARC Community Services, a Madison-based organization serving women in recovery, are adjusting their interactions with patients from the moment women enter the clinic.
"We had to make sure that when women were coming in, we were assessing for opiate withdrawal and overdoses, making sure that someone who might need medical assistance was getting it right away," ARC Program Manager Laura Fabick said.
"It's caused us to have a lot more collaboration with the clinics and to be much more aware of signs and symptoms," ARC Clinical Supervisor Linda Norton said. "We've had to really educate ourselves."
Adding to the challenges of treating opiate addictions is the fact that Suboxone, one of the most effective drugs used to treat heroin addiction, is becoming more and more difficult to get in Madison, according to a report in the Capital Times. Few physicians are certified to prescribe the drug, and the pills are costly, running patients between $250 and $300 per month if they are uninsured.
Despite the success of drugs like Suboxone in combatting opiate addiction, Dane County only financially supports traditional abstinence-based treatment for drug addiction. Service centers are also a precious commodity in the city. Although Madison offers nine substance abuse clinics, many only offer short term or out-patient treatment. Hope Haven, one of the local centers offering a long-term rehabilitation center for stays of more than 30 days, has struggled to expand and relocate its service centers because of resistance in south Madison communities.
With limited clinical options, recovering addicts are turning to informal support systems instead, including non-profits like Aaron's House and the Next Step Recovery Community, which aim at giving young adults an alternative to the culture surrounding drinking and partying. As the use of hard drugs increases, programs like UW-Madison's Meditation and Recovery group as well as sober houses near campus allow alternate paths to young adults struggling with addiction and drug abuse.
"Whether someone is using heroin, Oxycontin or alcohol, it's the same addiction," Tom Meyer, founder of Aaron's House, said. "Campus is no different than anyplace else. If someone needs help, we want to be there."
Since October of last year, community responses to the rise in opioid abuse have appeared across the county. A growing number of healthcare organizations are reducing the amount of opioids prescribed, and with their 13 drop sites, Safe Communities of Madison-Dane County seeks to dispose of leftover and expired prescription drugs. On a legal level, the Dane County Circuit Court's Drug Treatment & Diversion Court programs offer alternatives for drug abuse arrests in order to reduce recidivism and address addiction.
"There are some things that the medical industry is doing to stave off opiate abuse," Norton said. "Doctors are getting better at slowing down prescriptions and changing the design of opioids so that they are more difficult to dissolve, inject and abuse."
While the community response since October of last year has been formidable, it is too soon to see a measurable impact. And according to Bullard-Cawthorne, without the appropriate outreach and publicity, this year's efforts – especially the laws signed by Governor Walker – will not make the biggest possible impact. Only a sustained community-wide effort will be able to foster long-term change.
"We have to get the word out; the law passed in April and there have not been any efforts made to advertise and share that information," Bullard-Cawthorne said. "Things are moving in a good direction, but I think that it's too soon to show that we've reached long-term outcomes. I think five years down the line, we'll see a difference."